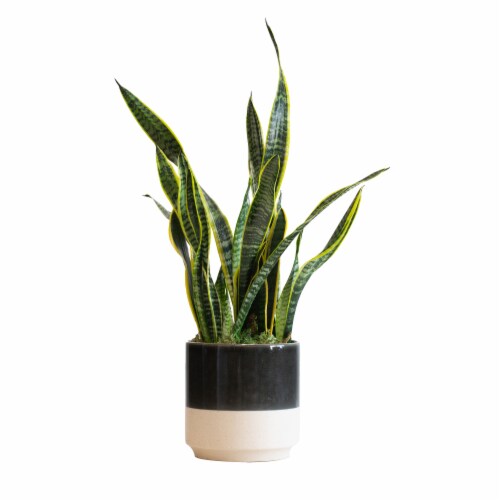 Hover to Zoom
LiveTrends Snake Plant in Ceramic - Black/Cream (Approximate delivery is 2-5 days)
Product Details
The Sansevieria, commonly known as a Snake Plant, is a popular decorative houseplant known for its resilience and ability to grow in most environments. The beautiful, sword shaped foliage and easy maintenance of this upright plant makes it a great choice for anyone without a green thumb.
A variegated Snake Plant hand-placed in a 6.5"" black and cream ceramic pot filled with natural moss. Pot measures: 6.25" (L) x 6.25" (W) x 6.25"" (H).
Simple Care: Although tolerant to low light, your Sansevieria will be happiest displayed in an area with bright, filtered sunlight. Water only when the top two inches of soil feels dry to the touch with no more than 1/3 of the planters volume.
Sansevieria is non-toxic to humans however can be harmful if ingested by your cat or dog. We recommend keeping it out of reach.
---