'Wrap and Roll' Recipes for Any Occasion
I learned early on in my parenting journey that kids are much more likely to eat something new to them when they can't see it. This knowledge has inspired many recipes over the years, including dozens of burrito and summer roll variations. When veggies are tucked into a tortilla, they just seem less scary.
Turns out my kids aren't alone - when food is rolled, it's more fun to eat. And, easier to dip! Below you'll find some great recipes that are easy to make, fun to eat, and suit most any occasion.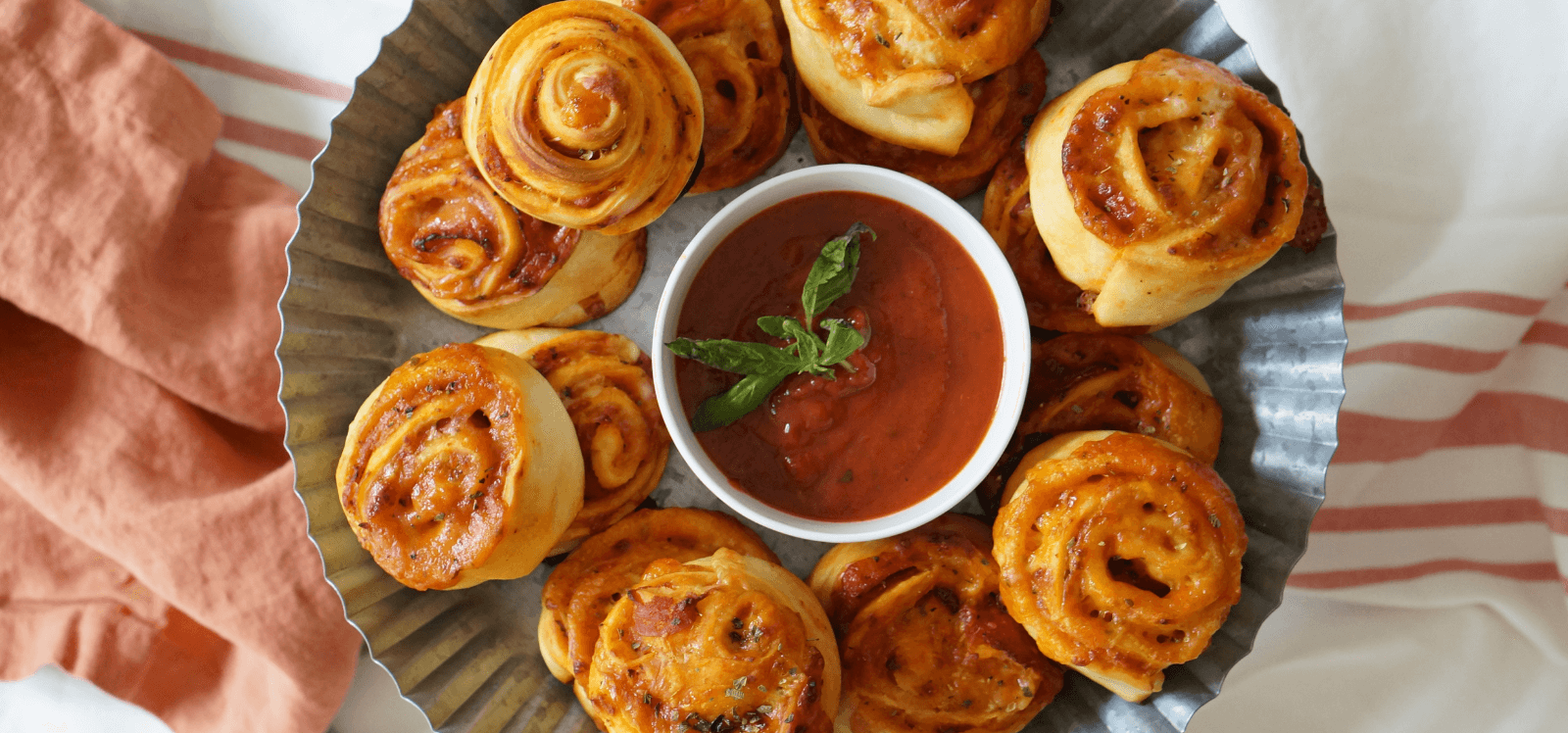 Classic Pepperoni Pizza Rolls
Easy for little kid hands to manage, our Classic Pepperoni Pizza Rolls also a great vehicle for sneaking in a few veggies. Try serving them as an appetizer at your next party.
Ingredients:
2 rolls of refrigerated pizza crust

1 jar of Harris Teeter Pizza Sauce

2 cups Harris Teeter Mozzarella and Provolone Cheese

Harris Teeter Pepperoni

Optional: ½ cup finely diced vegetables such as bell peppers, onions and mushrooms
Directions:
Preheat oven to 425℉. Unroll pizza crust onto a cutting board. Spread about ½ cup of pizza sauce onto the crust, leaving ½" edge along all sides. Sprinkle with ½ of the cheese and layer on pepperoni.
Roll dough into a long roll. Slice into 9 pieces and place on a greased baking sheet. Repeat with the second pizza crust.
Bake 15-20 minutes, or until the rolls are golden and the cheese has melted. Serve with additional pizza sauce, as desired.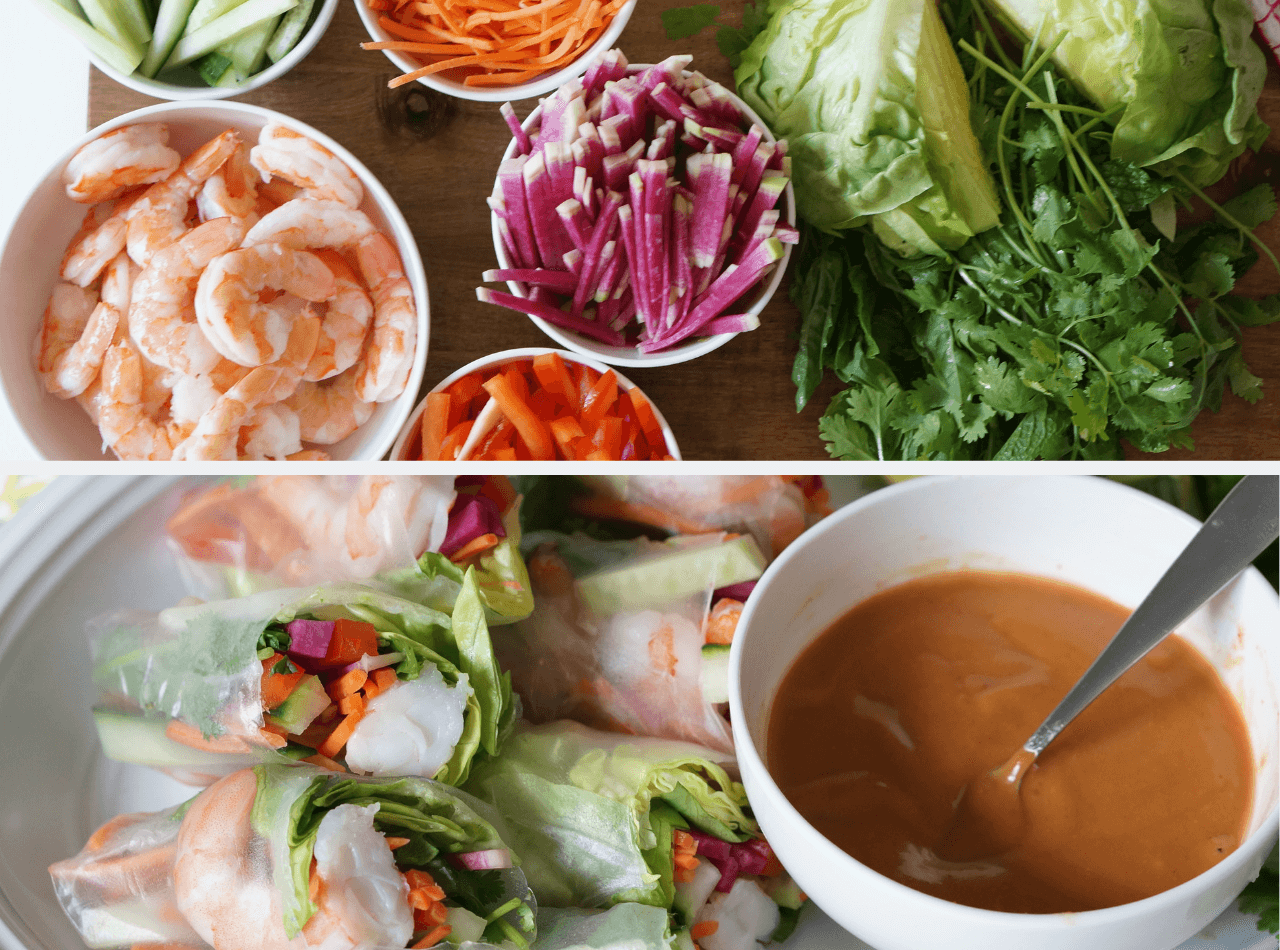 Shrimp Summer Rolls
A rainbow of ingredients and a variety of herbs make these shrimp summer rolls burst with flavor. Pair with HT Traders Thai Peanut Sauce for the perfect zing!
Ingredients:
Rice Paper

¾ lb. fresh shrimp, tails removed

Boston lettuce, leaves loosely torn

Fresh cilantro, washed

Fresh mint

Fresh basil

1 watermelon radish, julienned

1 red bell pepper, julienned

1 carrot, julienned

1 English cucumber, julienned
Directions:
Lay one rice paper on a large plate. Dampen both sides with a wet paper towel until just pliable. On the bottom third of the rice paper, align lettuce leaves, herbs, vegetables and two shrimp in tidy line. Beginning with the bottom, roll the rice paper up. Fold in the sides, then continue to roll the paper into a log. Slice in half. Repeat with the remaining ingredients. Serve the summer rolls immediately with peanut sauce.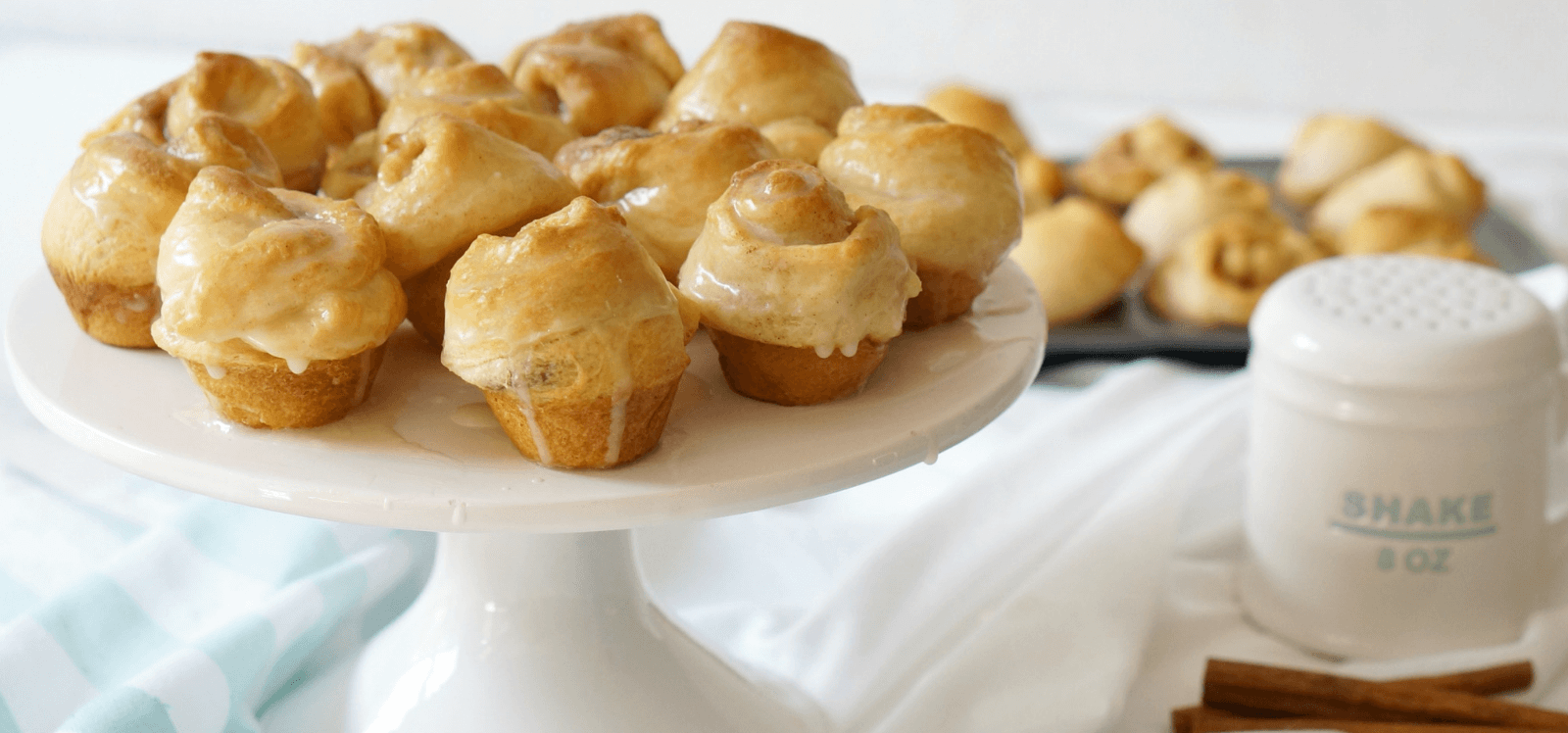 Mini Cinnamon Rolls
Harris Teeter Crescent Rolls turn into mini cinnamon roll muffins with just a few extra ingredients. Pair with a travel mug of coffee for breakfast on the go!
Ingredients:
3 8-count tubes of Harris Teeter Butter Flavored Crescent Rolls

6 Tbsp. Harris Teeter Unsalted Butter, melted

½ cups Harris Teeter Granulated Sugar

2 tsp. ground cinnamon

For the icing:

¾ cups powdered sugar

¼ tsp. Vanilla

1 Tbsp + 1 tsp. Milk
Directions:
Preheat oven to 375℉. Mix together granulated sugar and cinnamon. Unroll crescent rolls and brush melted butter onto both sides. Sprinkle one side with the cinnamon sugar mixture. Roll into spirals, skinny side first and sugar coating on the inside.
Place rolls in mini muffin tin. Cook for 10-12 minutes, or until lightly golden. Remove from the oven and allow to cool slightly.
In a small bowl, stir together icing ingredients until smooth. Drizzle icing over warm roll and serve.
.
Roasted Sweet Potato & Black Bean Burritos
Roast the veggies in advance and store in the fridge for an easy week-night meal. Serve the burritos with your favorite salsa mixed into Greek yogurt for a creamy and protein packed dip.
Ingredients:
3 cups chopped sweet potatoes

1 red bell pepper, seeded and cubed

1 red onion, cubed

1 jalapeno, seeded and diced

1 tsp. dried cumin

1 tsp chili powder

1 tsp. Salt

2 Tbsp. olive oil

1 15 oz. Harris Teeter Organic Black Beans, rinsed and drained

3 Tbsp. chopped cilantro

juice of 1 lime

2 cups Harris Teeter Thick Cut Mexican 4 Cheese Blend

Harris Teeter Burrito-Sized Flour Tortillas
Directions:
Preheat oven to 425℉. Combine sweet potatoes, red bell pepper, red onion and jalapeno on a sheet pan. Sprinkle with cumin, chili powder and salt. Drizzle with olive oil. Gently stir to coat. Bake for 25 minutes, stirring the mixture once halfway through.
Place roasted veggies in a small mixing bowl. Add drained black beans, cilantro, and lime juice. Place a large heaping spoonful of the sweet potato and bean mixture on the bottom third of one wrap. Sprinkle with cheese. Fold up the bottom third of the burrito, fold in the sides and roll up. Place seam-side down on a greased baking sheet. Continue with the remaining burritos.
Reduce the oven temperature to 375℉. Place burritos in the oven and bake for an additional 10 minutes, or until warmed through and crisp.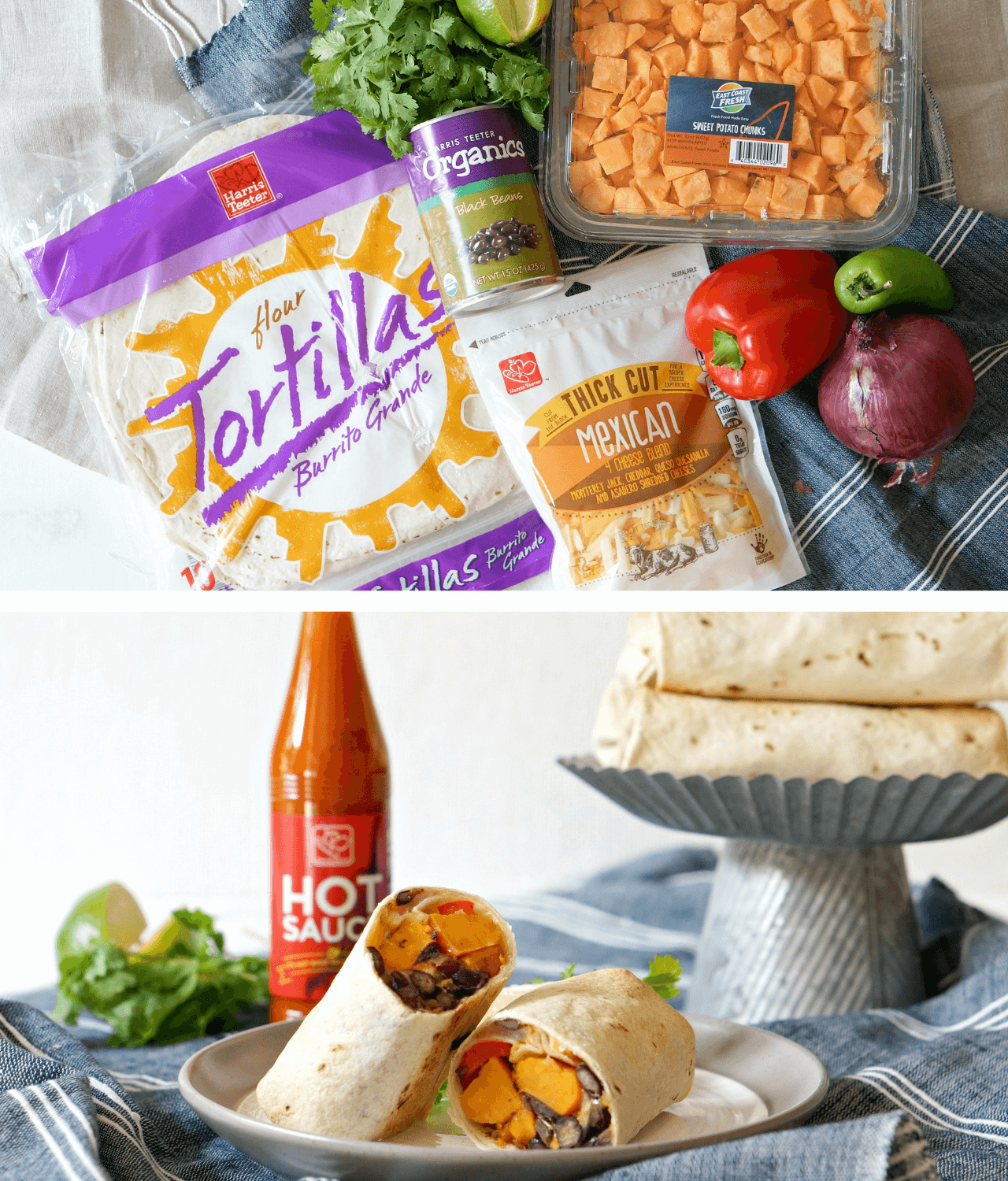 Katie Harding is the publisher of Forks and Folly . A self-taught cook and die-hard foodie, Katie lives in Charlotte with her husband and three boys. Besides cooking and eating, she loves craft beers, running, and napping.