TIE Coordinator Tools
Click on the document title to view:
Sample Letter for School Supporters (English / Spanish)
Linking Events are for Together in Education schools in North Carolina, South Carolina, and Georgia. This is an opportunity to increase your school link count by setting up a Together in Education table at an HT store in your community.
Please note: Harris Teeter reserves the right to restrict any dates where a linking event may conflict with day-to-day business.
Below are the rules for a Together in Education Linking Event:
Limit of five linking events between August 1 – May 31
Limit of one linking event per weekend per school
Schools may only request HT stores within 5 miles of their school location
Schools may set-up for a maximum of 4 hours
Event dates will be open 6 months prior (ex: You may reserve August 1st on February 1st)
One week-minimum advance notice required
Events must take place OUTSIDE the store and follow the 20 foot rule. Schools must stay 20 feet from the door. Store managers may ask a school to move their table if it is impeding the flow of traffic for shoppers.
Schools may not go inside the store asking customers to link their VIC cards
Schools are required to bring their own table, chairs and materials for events
Events are not permitted on holiday weekends due to heavy store volume
For linking events, schools may distribute their school code to shoppers on a slip of paper or using the TIE linking stickers
If these rules are not being followed, store management may ask a school to leave the store property
Harris Teeter reserves the right to deny any linking event, at any time, this may occur even after a school has received confirmation of their event
Click here for the request form.
Use these digital banners to promote the Together in Education program to your school supporters.
Right click on the image below, save the image.
LINK message with the Mass Link included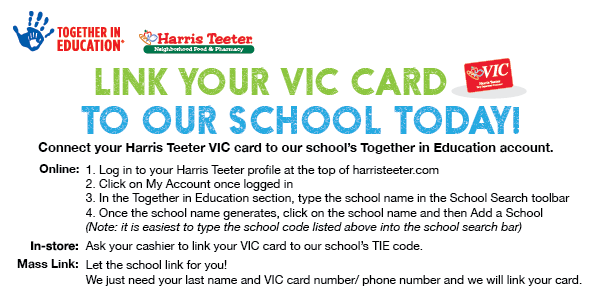 LINK message without Mass Link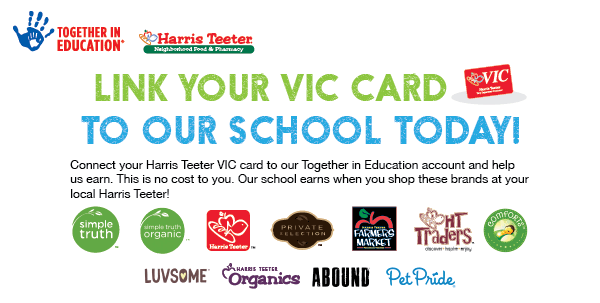 If your school has lost a payout check or has found an expired check, then you may turn this form in and receive a re-issued check. If you have the expired check it needs to be sent in along with this form. If you are requesting a new check because you lost it, then you may simply fax this form or email it to tie@harristeeter.com.
Mailing Address:
PO Box 400
Matthews NC 28105-0400