The Sub Shop
Fresh Foods Ordering
Don't have time to wait in line? Save time with our online ordering available through our website and the Harris Teeter app.
Welcome to The Sub Shop located in the Fresh Foods Department of your Harris Teeter. Stop by and enjoy a fresh made sub as you like it.
Regular Menu Pricing
Cold Half Sub
$3.99
Hot Half Sub
$3.99
Whole Cold Sub
$6.99
Whole Hot Sub
$6.99
Have your sub made as you like it*:
Choose your bread
White sub roll
Wheat sub roll
3 Cheese sub roll
White wrap
Wheat wrap
Choose your cheese
Provolone
White American
Hot Half Sub
Yellow American
Swiss
Choose your dressing
Mayonnaise
Deli mustard
Dijon horseradish
Ancho chipotle spread
Oil & vinegar
Choose your toppings
Jalapenos
Banana peppers
Lettuce
Tomatoes
Pickles
Salt & pepper
Black olives
Onions
Filling
Club Sub
Tuna salad
Turkey breast
Roast beef
Pork BBQ
Philly cheesesteak
Ham
Meatballs marinara
Sausage & peppers
Breaded chicken cutlet
Grilled chicken
Grilled vegetables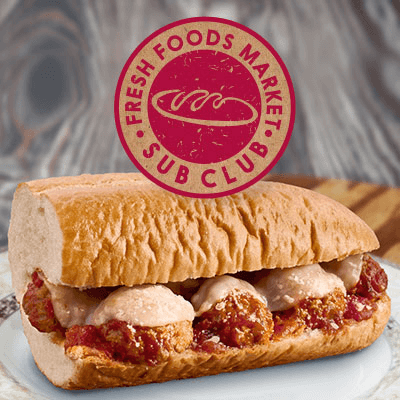 Lunch Pack - $5.49!
Purchase the half sub of the day, any 2 oz. bag of Potato Chips and any 16 oz. Fresh Foods Market Sweet Tea, Unsweet Tea or Lemonade for $5.49. All three items must be purchased in a single transaction, with VIC card. Limit one (1) Lunch pack per transaction.
The Sub Club
Earn one (1) point when you purchase a half sub or wrap and two (2) points for every whole sub. When you earn fifteen (15) sub points, you'll be rewarded with a FREE Harris Teeter made to order whole sub on your next visit. Your receipt will keep you up-to-date with the sub points you have earned.*
*Whole sub only. No splitting. Must be the same item.
Points earned after April 1, 2018 can be redeemed starting on May 1, 2018. These points can be earned through December 31, 2018 and will be valid through January 31. 2019.
Whole Sub Friday!
Every Friday, all whole cold & hot subs are only $5.99 each with your VIC card.
*May not be available in all locations. Prices above reflect new prices starting April 1, 2018.