Sangrias for the Holidays
With fall going strong and winter soon upon us, I'm in the mood to celebrate…everything! Bring on Friendsgiving. Let's host a holiday potluck. It's time to celebrate the best of the past year and bring in the new one with friends and family. Whatever event you have in the works, I'm thinking sangria might be the perfect drink du jour.
I love serving sangria at parties. I know it often seems like a summer drink, but I've got four ways to bring the cool-weather vibe to this most popular of pitcher drinks. Not only are these sangria recipes easy to make, but they are the perfect anytime sipper.
Loaded with fruits, juices, and spices of the season, you'll find the perfect sangria for every fall and winter party you are throwing this season. I'm not sure which is my favorite of the bunch…Pumpkin Pie Sangria? Winter Citrus Sparkling Sangria? It's hard to pick a favorite.
The best advice I can offer? Try them all! While many of the recipes below include liquor, all of them can be made without it by simply adding an extra splash or two of wine, juice or soda.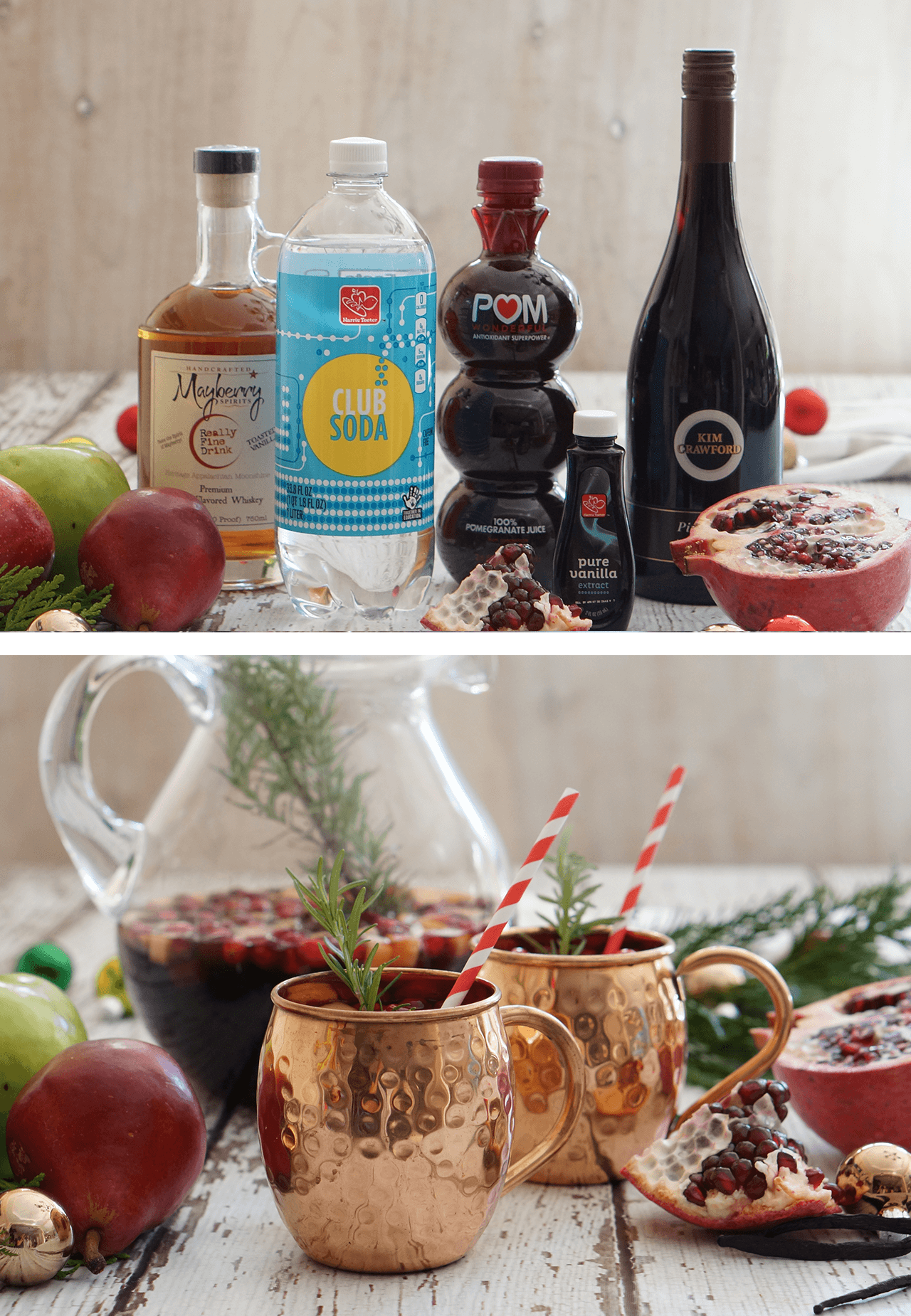 Pomegranate Vanilla Sangria
Tart pomegranate seeds and sweet vanilla meet in this perfect winter sangria. Serve in copper mugs for a festive treat at any holiday get-together.
Ingredients:
1 green apple, chopped

1 red apple, chopped

1 pear, chopped

1 large pomegranate, arils removed

2 vanilla beans

2 bottles of red wine

1 cup pomegranate juice

½ cup vanilla flavored whiskey

½ cup sugar

1 Tbsp. vanilla extract

Harris Teeter Club Soda




Directions:
Add fruits and pomegranate arils to a large pitcher. Pour in wine, juice, brandy, sugar and vanilla. Stir to combine. Cut a slit lengthwise along the vanilla beans and use a small spoon to scrape out the bean paste. Add the paste and emptied pods to the pitcher. Mix again and refrigerate for at least one hour.
When ready to serve, pour sangria and fruit over ice and top with club soda.

Sparkling Winter Citrus Sangria
Every winter holiday party deserves a toast with our Winter Citrus Sangria! Select your favorite winter citrus to star in this tart and bubbly drink.
Ingredients:
1 bottle of dry rosé wine

1 bottle of sparkling wine

2 cups of Harris Teeter Grapefruit Juice

Sliced grapefruits, oranges, lemons and limes

Optional: rosemary twigs for garnish
Directions:
Combine rosé wine, grapefruit juice and sliced fruits in a large pitcher. Refrigerate until ready to serve. Pour into glasses and top with champagne.
Katie Harding is the publisher of Forks and Folly . A self-taught cook and die-hard foodie, Katie lives in Charlotte with her husband and three boys. Besides cooking and eating, she loves craft beers, running, and napping.