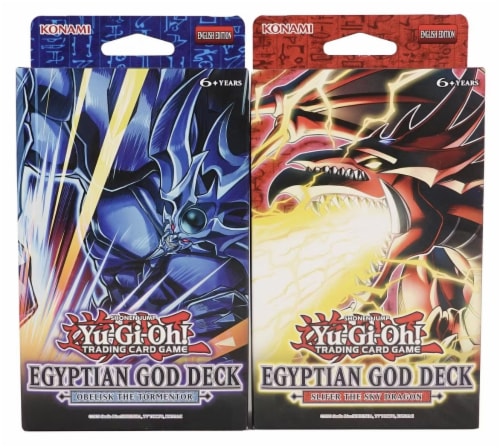 Hover to Zoom
Yu-Gi-Oh! Trading Card Game: Structure Deck Egyptian God Deck - Set of 2
Purchase Options
Sold and Shipped by
Product Details
Awaken the power of the Egyptian God Cards!
If you've ever wanted to build a Deck around an Egyptian God Card but didn't know where to start, look no further than the Egyptian God Decks!
Egyptian God Deck: Slifer the Sky Dragon - This Deck uses Token-generating effects to help you gather the 3 required Tributes while using fewer cards from your hand.
Egyptian God Deck: Obelisk the Tormentor - This Deck uses self-replicating monsters to provide Tributes and protect your Life Points as you get closer to drawing your Divine Beast.
Each Egyptian God Deck is 40 cards total and includes1 Egyptian God Card and 5 new cards - 4 unique new cards as well as 1 copy of Soul Crossing, a brand-new Quick-Play Spell Card included in both Decks that lets you Tribute Summon your Egyptian God Card by Tributing your opponents monsters!
Each Deck is playable on its own straight out of the box and comes with a Dueling Guide that explains the basic strategy and some rules you should know to get the most out of your Deck. Of course, if you pick up both, you can mix and match their strategies to create an awesome Deck that can wield multiple Egyptian God Cards!
Each Egyptian God Deck contains 40 cards:
4 Ultra Rares, 4 Super Rares, 32 Commons, 1 Deluxe Game Mat/Dueling Guide
This listing is for two decks:
1 each of Slifer the Sky Dragon and Obelisk the Tormentor
LIMIT 10 PER CUSTOMER
Shipping & Return Information
---