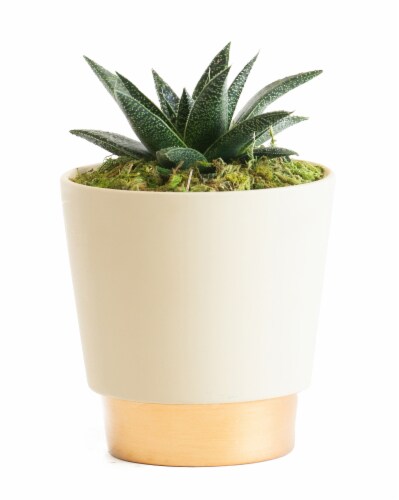 Hover to Zoom
LiveTrends Ceramic Elegance Pot Succulent - Cream (Approximate delivery is 2-5 days)
Product Details
Fun and easy to maintain, succulents are wonderful additions to any home or office looking to add an element of natural wonder. This drought tolerant plant comes in various leave patterns and are slow growers making them a popular choice.

A hardy succulent hand-placed in a 5"" cream and gold pot filled with natural moss. Pot measures 5.1" (L) x 5.1" (W) x 5.25"" (H).
Simple Care: Display your succulent in an area with medium to bright, filtered sunlight. Water only when the top two inches of soil feels dry to the touch with no more than 1/3 of the planters volume.
Several succulent varieties are safe and nontoxic however there's a few exceptions. Aloe Vera and Jade are the only varieties we don't recommend for pet owners. These can be harmful if ingested by your cat or dog.
---