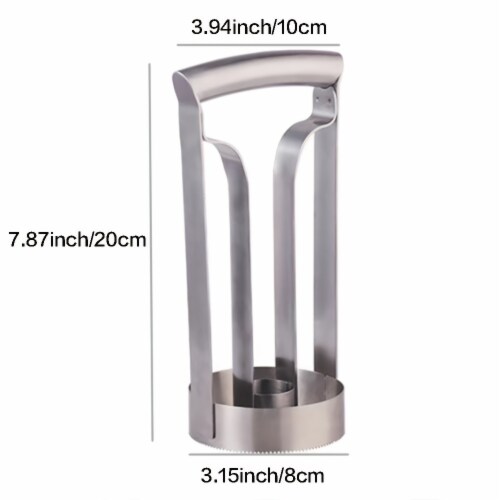 Hover to Zoom
Department Store 1pc Stainless Steel Pineapple Meat Extractor; Knife Kitchen Utensils
Product Details
Description
The pineapple coreless slicer tool is equipped with a high-quality stainless steel medium blade. The sharp serrated blade can easily cut through and remove the pineapple core, and the curved edge can form a perfect circular ring cut, thereby improving the peeling performance, and Not tired. Stainless steel Upgraded blades are rust-proof, corrosion-resistant and durable.Remove the top of the pineapple, stick the slicer in the middle, and twist the ratchet. Cut the perfect slice of fresh pineapple quickly and easily and remove the core, it's that simple. After taking out the core, create a perfectly shaped ring-shaped pineapple pulp. You can use the hollow pineapple as a glass to taste delicious smoothies and milkshakes.The comfortable ergonomic ratcheting handle is designed with a non-slip, easy-grip handle. Even with continuous use, the durable and flexible design will last for years. Very sturdy and super easy to use. It can easily pass through the pineapple push core with very little effort.The pineapple corer slicer tool has separate parts, is removable and easy to clean, and the dishwasher is safe. Compared to cutting whole pineapples manually with a knife, it saves time and is safer to use, ideal for themed parties and pineapple lovers.
1 gift box packing;1 x Pineapple Corer Slicer;1 x Wedger Device.
Specifications:
Size:24.5 x 10 cm / 9.64" x 3.93";
Weight: about 150g / 0.33LB;
Material: Premium plastic+ Stainless Steel;
Color: Handle is Black, blade, and the tube is Silver.
---