HT Home Town Brands Texas Pete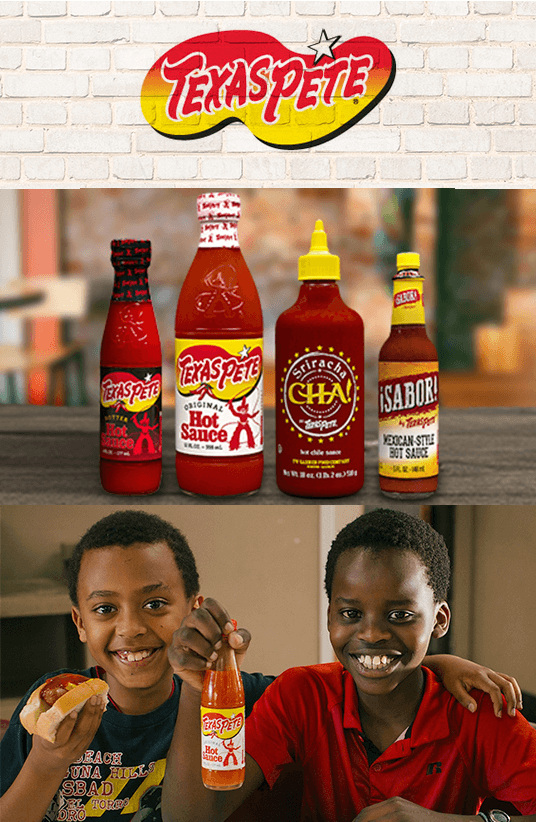 Texas Pete is drama for your mouth.
• Established: 1929
• Makes: Sauces
• Website: texaspete.com
How is it that a tasty red pepper sauce made in North Carolina got to be named 'Texas Pete'? Legend has it that, when Sam Garner and his three sons were trying to name their new sauce, a marketing suggested "Mexican Joe" to connote south-of-the-border flavors. "Nope!" said the family patriarch. "It's got to have an American name!" Sam suggested Texas, which also had a reputation for spicy cuisine. Then he glanced at son Harold, whose nickname was "Pete" and the Texas Pete cowboy was born.
As for the sauce itself, Well, it was 1929, the onset of the Great Depression, and the eldest son, Thad, decided to use his college money to help his large, struggling family. They bought a local bar-be-que joint, which sadly did not survive. But along with the restaurant came a special secret recipe for a delicious (according to patrons) barbecue sauce.
Soon the entire family was helping out to make the sauce and keep the family afloat in the hard times. Sam, who never met a stranger, traveled the back roads of North Carolina peddling their sauce. Thad, along with younger brothers Ralph and Harold, as well as Mother Jane and sisters Virginia, Elizabeth, and even young Margaret, were helping in the kitchen.
Today, the company is prospering as it celebrates its eightieth year in business. Members of the third and fourth generations of the Garner family have followed in their elders' footsteps. The current factory, built in 1942 and added onto too many times to count, sits on the original Garner family home site in northwest Winston-Salem. That's right, Texas Pete's still not in Texas, but right at home in the Tar Heel State!