DIY Halloween Scented Slime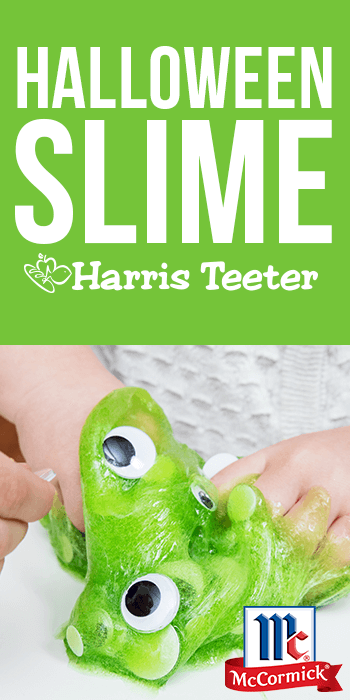 DIY Halloween Scented Slime
Kids will have so much fun making this Halloween scented slime. Customize colors and scents using McCormick® Food Colors and Extracts.
Supplies:
1 bottle (4 ounces white or 5 ounces clear) washable school glue
1 tsp. baking soda
1 tbsp. water
Your favorite McCormick® food color(s), such as…

McCormick® Red Food Color
McCormick® Green Food Color
McCormick® Yellow Food Color
McCormick® Black Food Color

Your favorite McCormick® extract(s), such as…

McCormick® Pure Vanilla Extract
McCormick® Pure Pumpkin Pie Spice Blend Extract
McCormick® Pure Lime Extract

1 to 2 tsp. contact lens solution
Directions:
Mix glue and baking soda in medium glass bowl until well blended.
Stir in water, desired food color(s) and extract(s) until well blended and you get the color and smell you want.
Stir in contact solution, 1 teaspoon at a time, until mixture becomes difficult to stir and is no longer sticky. (If necessary, add more contact solution until desired consistency.)
Knead in hands until you form a ball that is slightly wet, but does not stick to hands. (Slime is ready to use when you can touch the slime and pull your finger away without anything sticking to it.)
Store slime in an airtight container when not using.
While this slime looks and smells yummy, it is not edible. The addition of extract(s) is for scent only.