Game Day Hosting Inspirations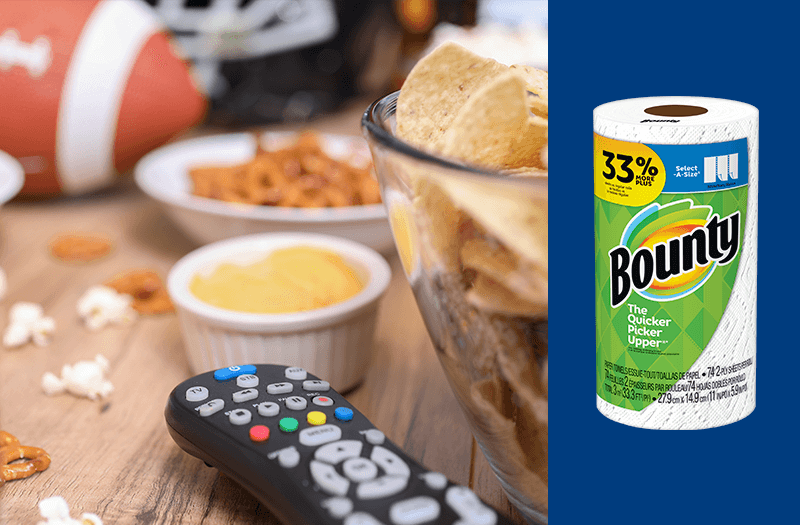 Put A Stop To Game Day Spills
Game day spills can put a real stop to the action when you're hosting. Keep at least one roll of Bounty Paper Towels stashed in each room where your guests will be. That way you can act fast and wipe up spills right when they happen.
Chill Those Drinks
When guests show up with room temperature beverages, try this handy Bounty hack for quickly chilling drinks. Wrap cans or beverages in a soaked Bounty Paper Towel and toss in the freezer for 10 to 15 minutes. Set a timer on your phone so you won't forget to remove them!

Protect Colors And Tackle Stains
Sure, Tide PODS have built-in stain removers to help treat stains from buffalo and BBQ sauce, queso dip, etc. But did you know Tide PODS also have built-in color protection? Wash team jerseys with Tide PODS for colors that help you stand out during each snap.
Pile On The Laundry
In football, a pile-on after a tackle can be a penalty. But, when using Tide PODS, a pile-on is exactly what you want! First, throw Tide PODS into the drum and then pile your laundry on top. This ensures you get the maximum cleaning power of the PODS when you tackle your next load.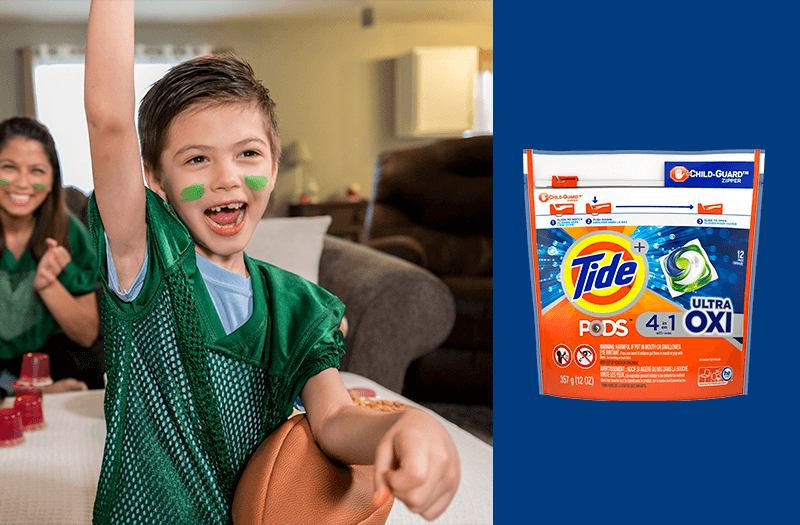 Freshen Up With This Lineup
When hosting a party for the game, a fully stocked bathroom is just as essential as a spread of food and drinks. Sure, extra rolls of Charmin are a good idea, but you'll also want to put out products like Febreze and a Tide To Go Mini Pen so guests can ensure a little smell or stain won't put a stop to their fun.
Halftime Refresh
Make halftime your moment to refresh. Refresh the air in your kitchen, living room and bathroom spaces by spraying a little Febreze. Your game day guests will thank you for it!