Family-Friendly New Year's Eve Party Ideas
The first few days after Christmas in my house are for toys, games, and quality R&R. It's much needed downtime after weeks of parties, feasting and merriment. But like so much in life, it is possible to have too much of a good thing.
Which is why New Year's Eve is one of my favorite holidays. One last hurrah before school and work starts back up. One last feast before starting new resolutions. One last night for the kids to totally ignore their bedtime.
With four kids in the house, our New Year's Eve party will focus on fun for the whole family. From mocktails to fab treats, all of our guests, both young and young at heart, will enjoy these New Year's Eve Party Ideas!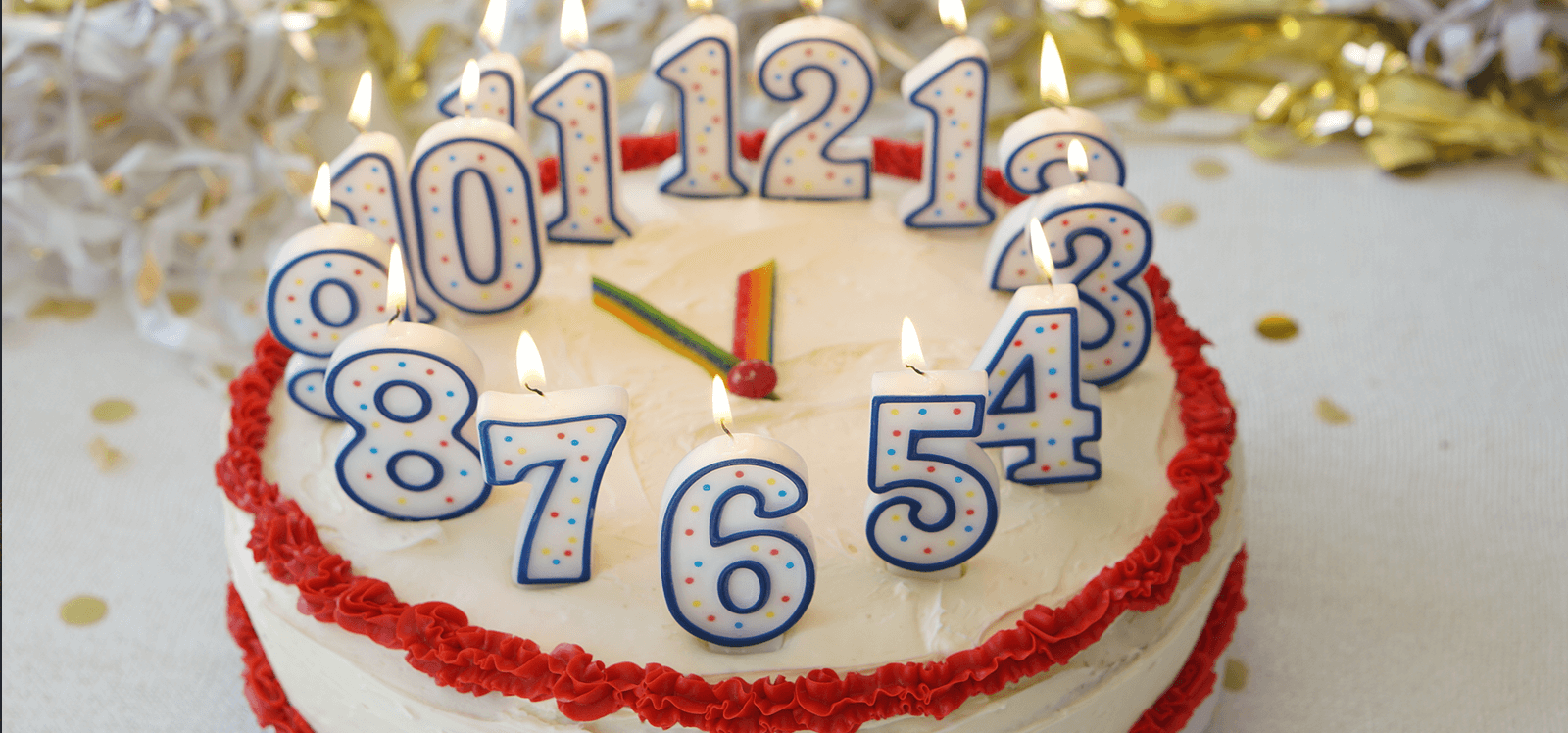 Countdown Cake
Blowing out the candles might be more fun than watching the ball drop. Plus, there's cake!
Ingredients:
2 boxes of cake mix, any flavor

4 tubs of vanilla icing

1 tube of pastry icing, red

Sour candy strips

Numbered candles:

1 each: #3, #4, #5, #6, #7, #8, #9, and #0

2 #2 candles

5 #1 candles
Specialty equipment:
2 -12 inch round cake pan(s)

Cake stand
Directions:
Prep cake mixes as indicated on package. Pour each mix into buttered and floured 12 inch round cake pans and bake according to package directions. Allow each cake to cool completely on wire racks before decorating.
Place one cake on a decorating stand and spread one tub of icing on top, just over the edge. Carefully stack the second cake on top. Smooth out the remaining frosting, over the top and side of the cake.
Arrange the numbers on the cake, and shape the sour strips into clock hands. Pipe the red frosting around the base and the top of the cake. It's time to celebrate!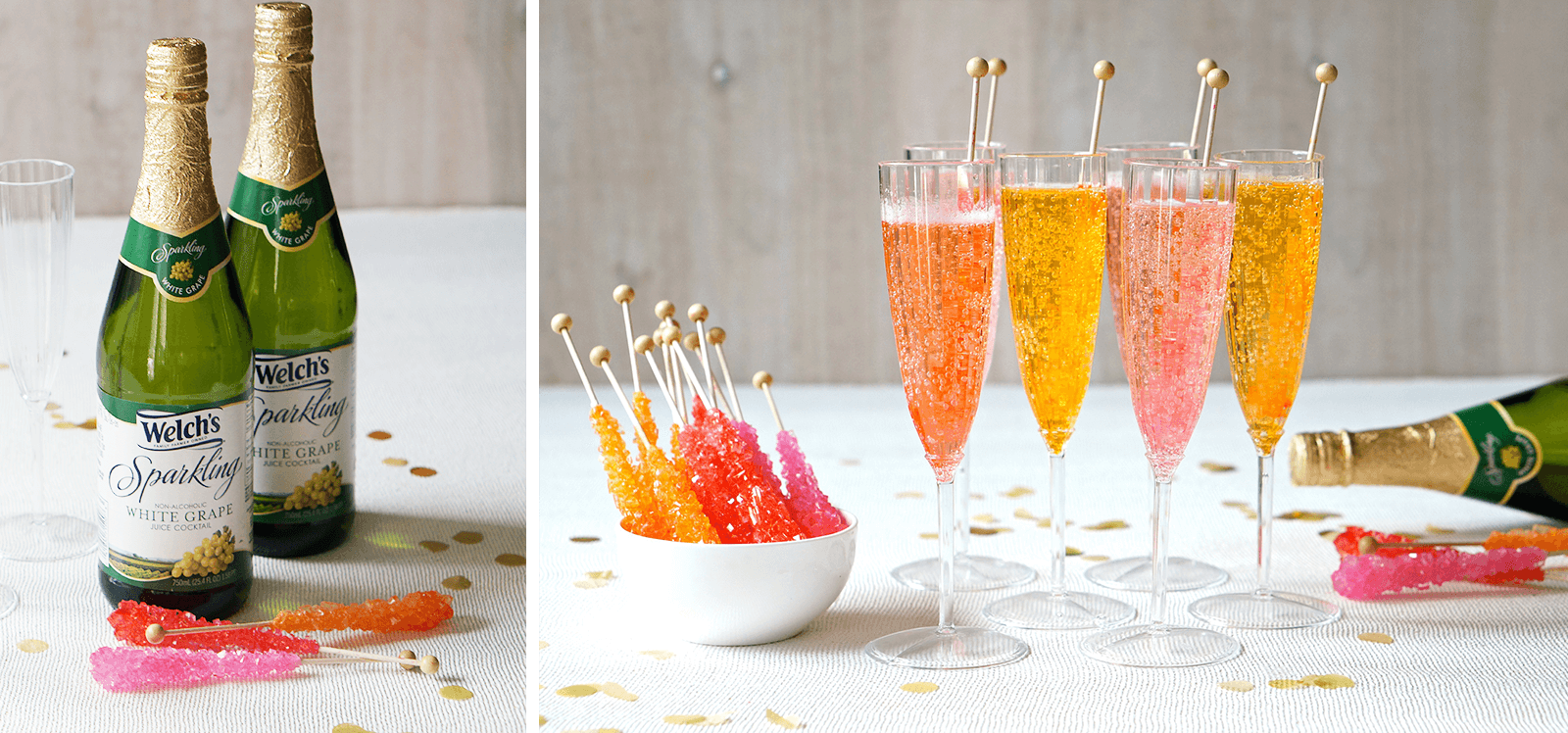 Rock Candy Mocktails
Toast the to the new year with sparkling mocktails the whole family can enjoy. Place rock candy in plastic champagne tumblers. Top with a light-colored sparkling juice and enjoy!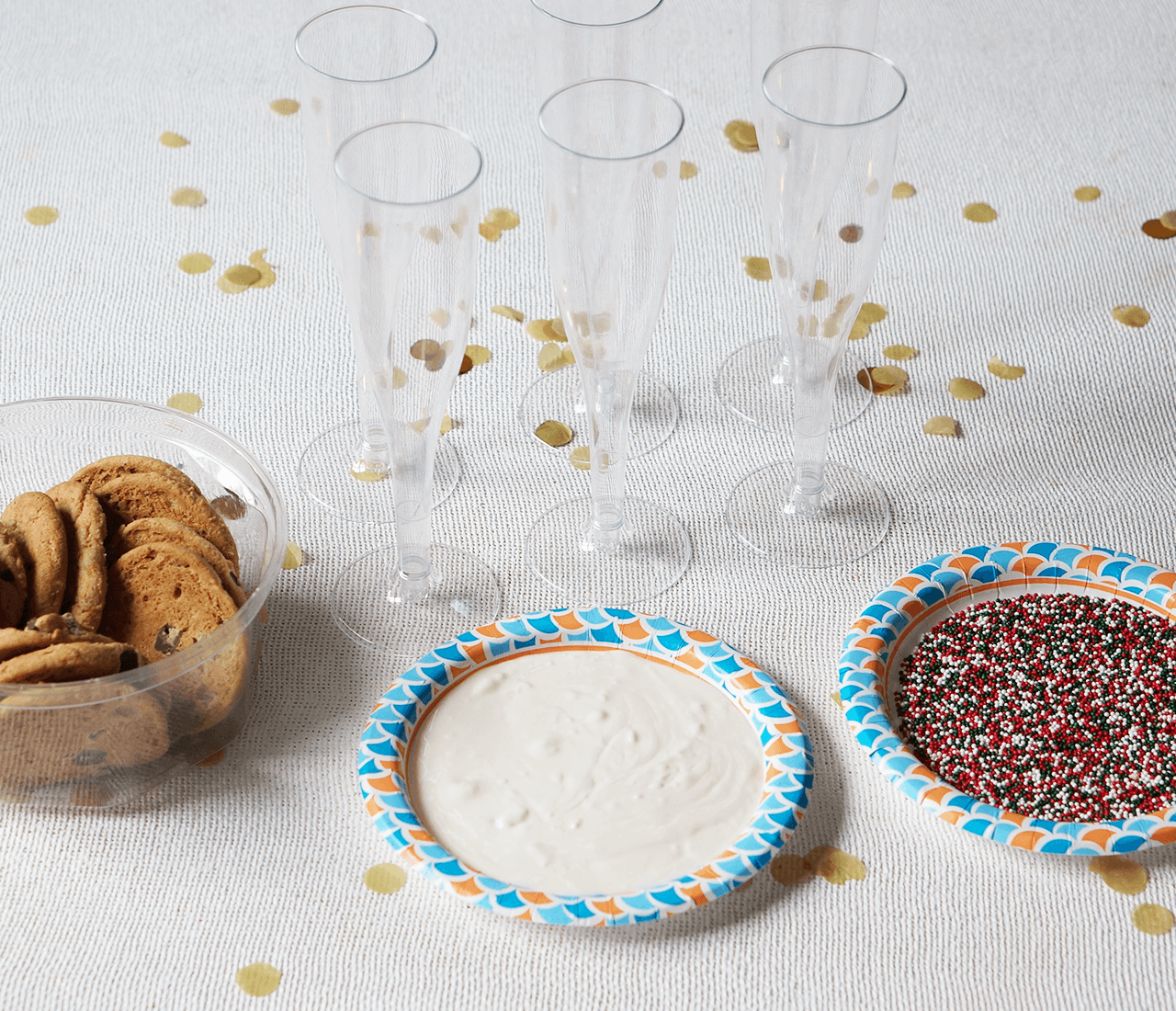 Milk and Cookies Cheers
Cheers to a New Year with a classic milk and cookies combo!
Ingredients:
Harris Teeter Milk

Harris Teeter White Chocolate Baking Chips


Holiday Sprinkles

Harris Teeter Bakery Chocolate Chip Cookies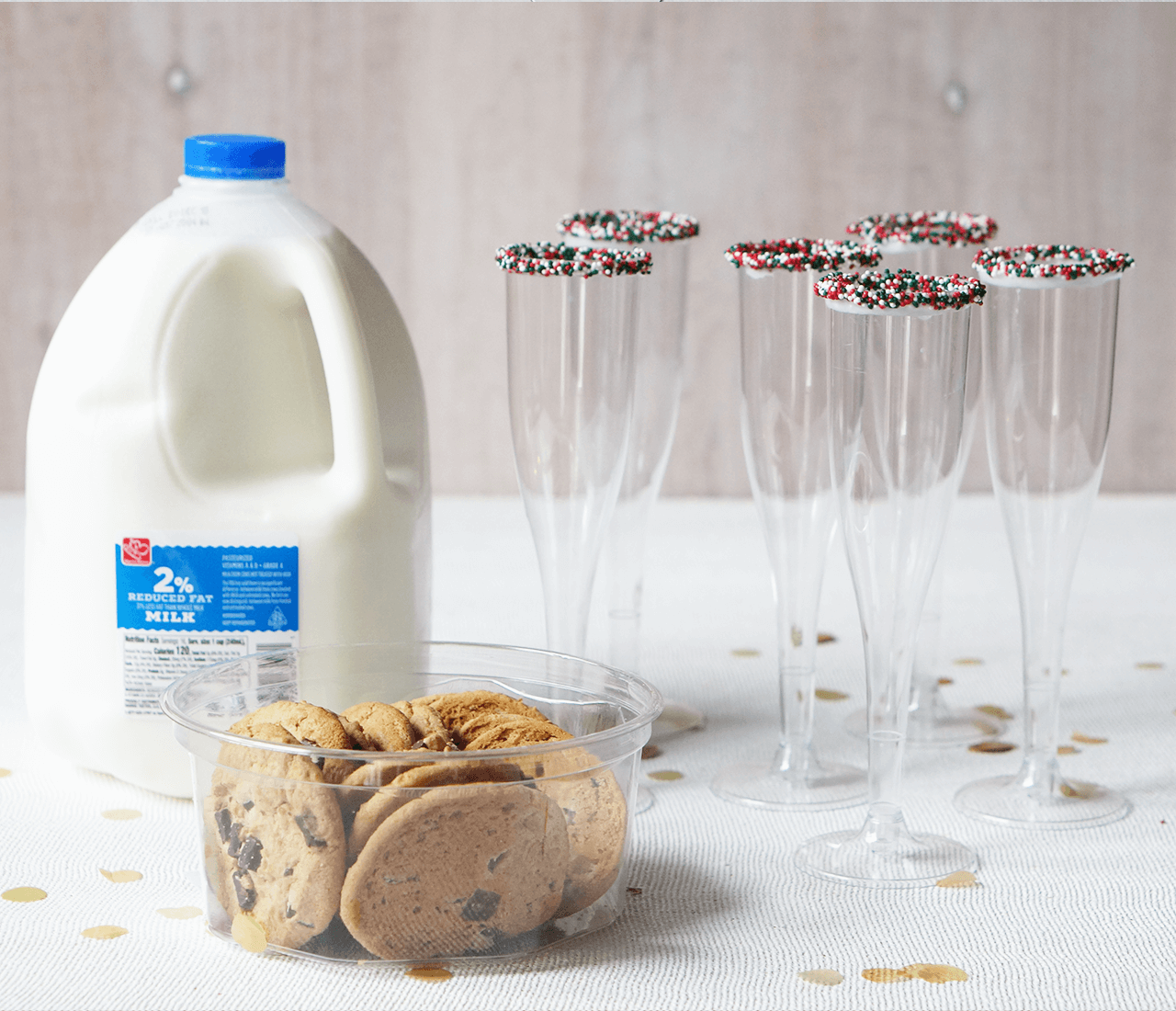 Directions:
Melt the baking chips in a microwavable safe bowl in 30 second intervals until smooth. Pour out onto a small rimmed plate. Pour sprinkles into a second small rimmed plate.
Dip each champagne glass into the chocolate and immediately into the sprinkles. Turn upright and allow to set. Pour milk into each glass and top with a cookie.
DIY Noisemakers
New Year's Eve and noisemakers go hand-in-hand. Craft these easy-to-make noisemakers for your guests and ensure a proper party atmosphere!
Supplies:
Harris Teeter Paper Plates


Dried Beans

Hot Glue Gun

Spray Paint

Large Craft Sticks

Numbered Stickers

Directions:
Pour dried beans into half of the paper plates. Rim each plate with glue from a hot glue gun and top with second plate. Allow the glue to harden.
Coat each noisemaker with spray paint. Once dry on the first side, flip them over and coat the backs. Allow to dry completely.
Adhere the craft stick handles to the back of each noisemaker with the hot glue gun and apply the numbered stickers to add the year on the front. Let the merriment begin!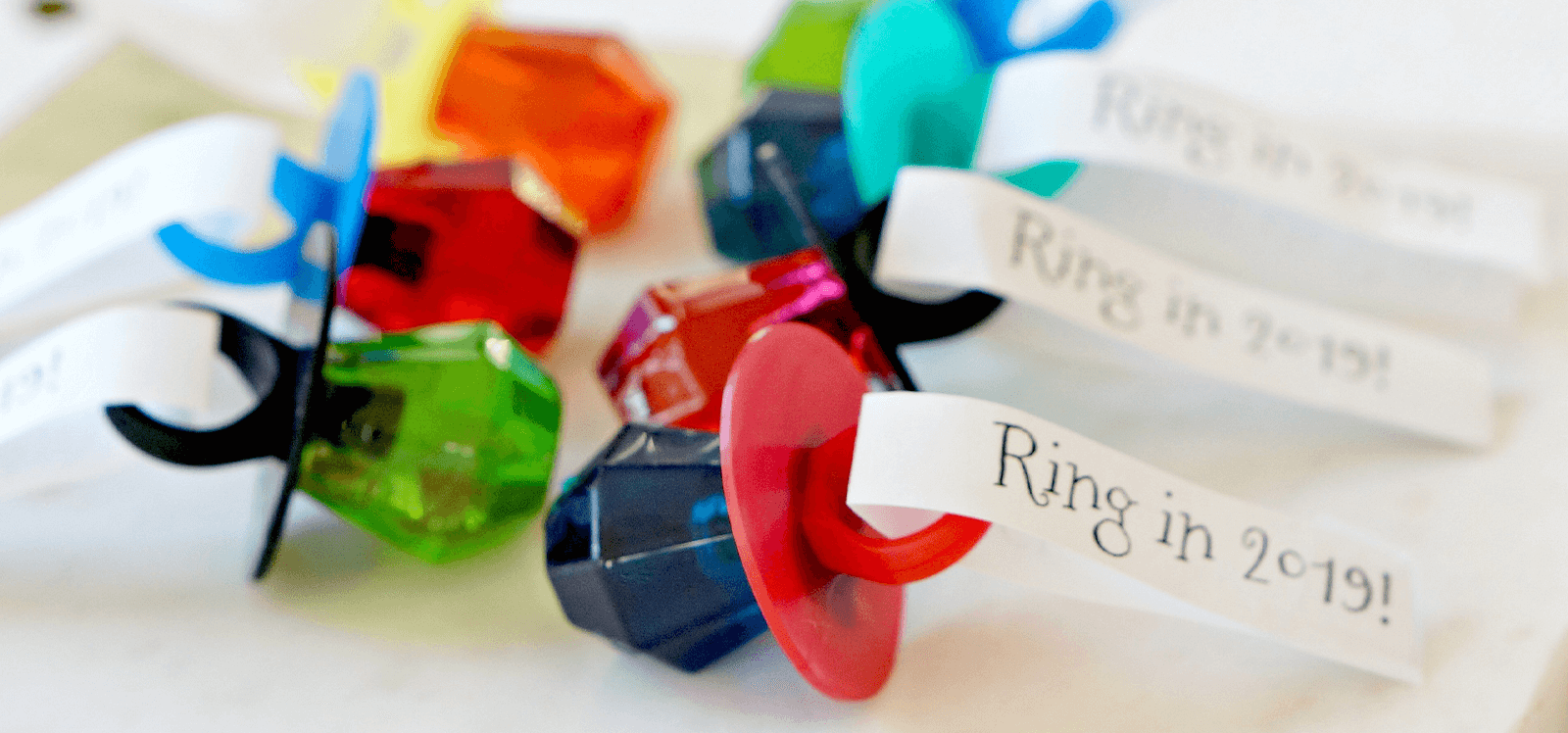 Ring Pop Favors
Everyone will love "ringing in the New Year" our delightful Ring Pop party favors! Download tags here.
Katie Harding is the publisher of Forks and Folly . A self-taught cook and die-hard foodie, Katie lives in Charlotte with her husband and three boys. Besides cooking and eating, she loves craft beers, running, and napping.