Family Recipes for Back to School
Who's ready for the back to school season? I think a few moms are probably raising their hands. And some kids, too. Everyone can use a little routine back in their lives after three months of summer - no matter how fabulous.
Despite how eager we are about introducing that routine, the first few weeks (or months!) can be rough. Which is why I'm sharing three of my favorite recipes that I like to bring out for especially busy days.
If you're one of those families that sends the kids running to the bus stop in the morning with their breakfast in-hand, you'll dig these Three-Ingredient Bacon & Cheese Biscuit Cups. Make a batch on the weekend, and you'll thank yourself come Monday morning.
My family digs the 20 Minute Meatless Taco Mac. I love that it only takes one skillet and twenty minutes to make. If you're unsure about meatless crumbles, you've got to give the Simple Truth Organic brand a try. They are spot-on for texture and flavor!
Finally, my kids love Pizza Bagels. I always have the ingredients on hand, and they take just a few minutes to make. They make a great after school snack, but also work for a quick weeknight dinner!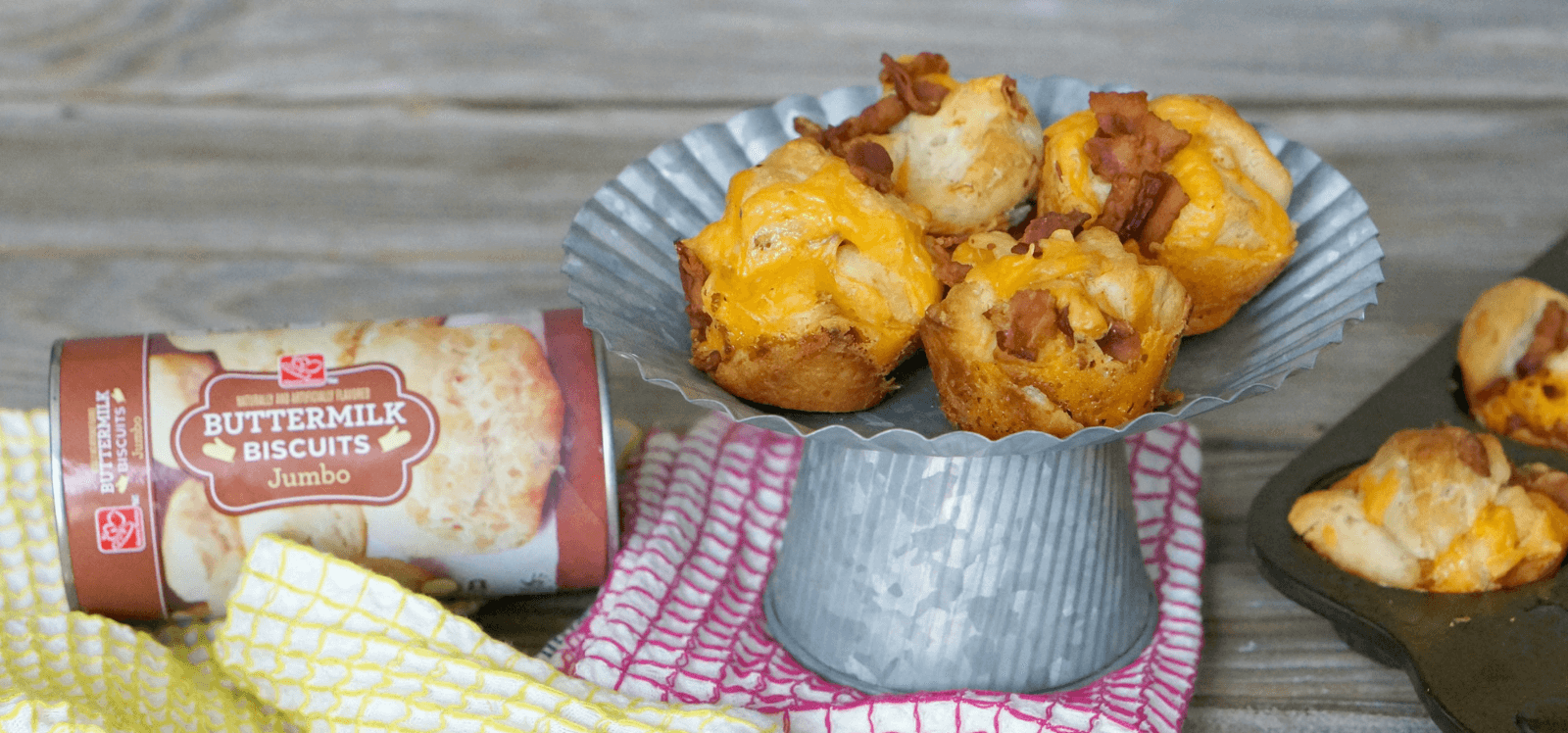 Three-Ingredient Bacon & Cheese Biscuit Cups
Ingredients:
16 oz. (1 tube) Harris Teeter Jumbo Flaky Buttermilk Biscuit Dough

12 oz. Harris Teeter Premium Bacon

1 ½ cups Harris Teeter Thick Cut Shredded Cheddar Cheese
Directions:
Preheat the oven to 350 degrees Fahrenheit. Coat a 12 cup muffin tin generously with cooking spray.
Chop the bacon, and cook until golden. Remove the bacon to a paper-towel lined plate, and reserve one tablespoon of the drippings.
Separate the dough into 8 biscuits. Cut them in half, and cut each half into thirds. Add the dough to a medium mixing bowl. Mix with the bacon, drippings, and cheese.
Add three dough pieces to each muffin cup, along with the bacon and cheese. Top each muffin with the remaining dough.
Bake the muffins 21-24 minutes, or until golden brown and cooked through. Cool in the pan five minutes, before running a knife along each cup to loosen and remove. Serve immediately, or allow to cool to room temperature before storing in an air-tight container.
20 Minute Meatless Taco Mac
Ingredients:
1 jar HT Traders Sonoma Salsa

1 packet Harris Teeter Mild Taco Seasoning Mix

3 cups water

3 cups Harris Teeter Medium Shells Dried Pasta

1 16 oz. package Simple Truth Meatless Crumbles

1 ½ cups Harris Teeter Thick Cut Shredded Cheddar Cheese

Optional garnish: chopped avocado and cilantro

Directions:
In a large skillet, stir together salsa and seasoning mix with a wooden spatula until smooth. Pour in the water and bring to a boil. Add in the pasta. Cover loosely, stirring occasionally, and simmer for 9 minutes. The pasta will be tender but not cooked. Through.
Add the meat crumbles and half of the cheese to the pasta mixture. Stir gently and add water, if the mixture seems dry. Continue to cook, covered, for five minutes, or until the meat is completely warmed through, the pasta is tender, and the cheese is melted.
Remove from heat and top with the remaining cheese. Cover and allow the taco mac to rest for five minutes. Garnish with avocado and cilantro and serve.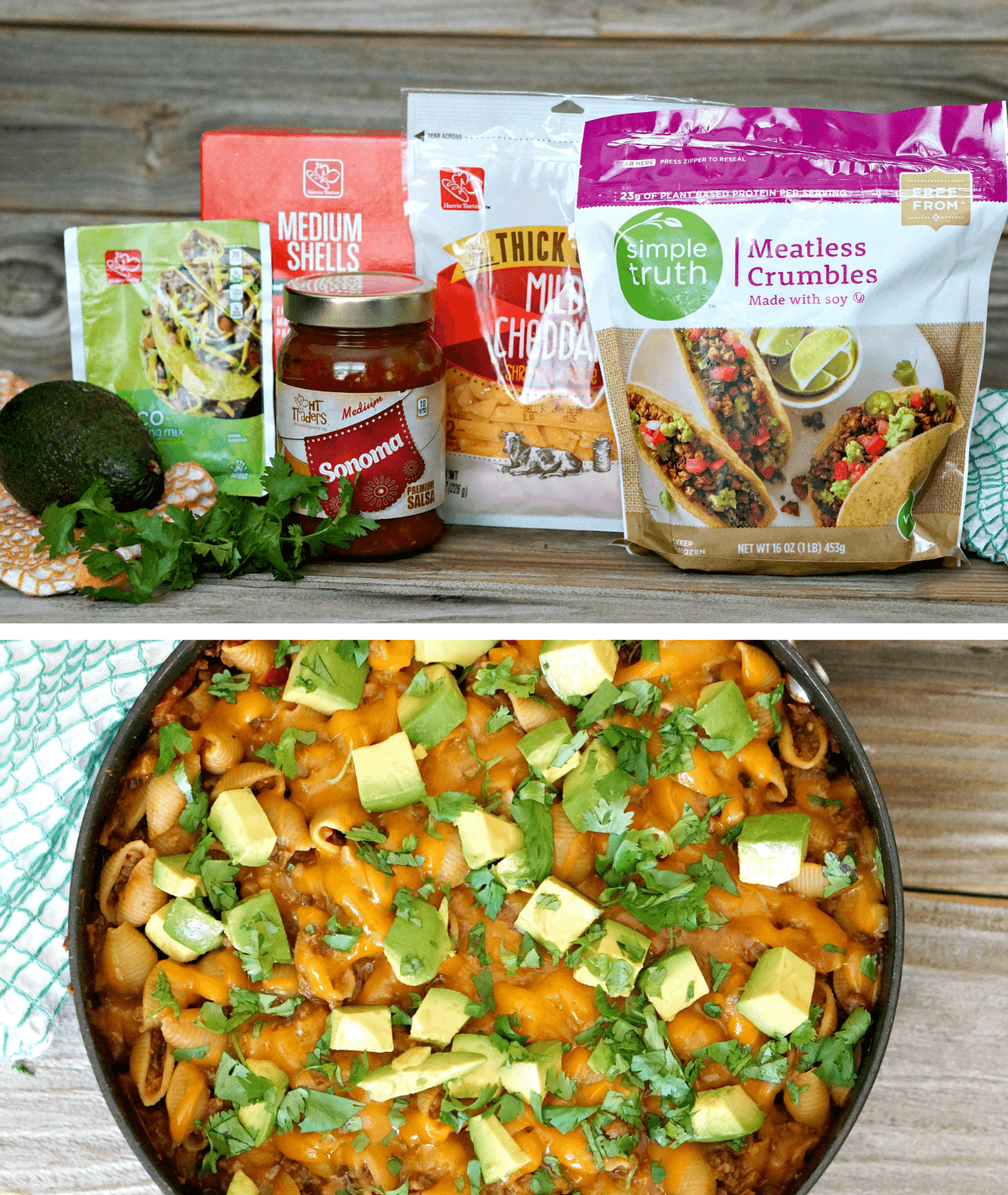 Bagel Pizza Snacks
Ingredients:
3 HT Fresh Foods Market Bagels, halved

½ cup Simple Truth Organic Pizza Sauce

1 cup Harris Teeter Fancy Shredded Gourmet Pizza 4

Cheese Blend

¼ cup Harris Teeter Turkey Pepperoni, chopped

¼ cup bell pepper, core and seeds removed, diced










Directions:
Preheat the oven to 425 degrees Fahrenheit. Place bagel halves on a greased baking sheet. Top the cut halves with pizza sauce. Sprinkle on the pizza cheese, then top with pepperoni and/or bell peppers.
Bake for 8-10 minutes, or until bagels are toasted and cheese is melted.
Katie Harding is the publisher of Forks and Folly . A self-taught cook and die-hard foodie, Katie lives in Charlotte with her husband and three boys. Besides cooking and eating, she loves craft beers, running, and napping.