Easter Treats for Your Family
Spring is in the air (finally!), and we're doing it up big! While I love living in an area where we experience all seasons, spring is my favorite, by far.


Nothing is better than swapping out rain boots for flip flops, seeing flowers pop up in the garden, and enjoying more sunlight in the evenings. Unless we get to do all those things with a sweet treat. Dessert makes everything better, which is why I'm sharing some of my favorite family-friendly Easter treats!

My kids devoured the Baby Chick Breakfast Cookies below (and so did the adults!). If you're a breakfast person, try adding a handful of the Carrot Cake-Spiced Granola to a bowl of yogurt. You'll want to make it year-round!

Our No Bake Birds Nest Cookies are not only delish, but they'll make great place settings on your dessert table for Easter. And if you have pancake fiends in your house (like I do), you'll have a crew lined up for Bunny Bottom Pancakes… with marshmallows and whipped cream of course!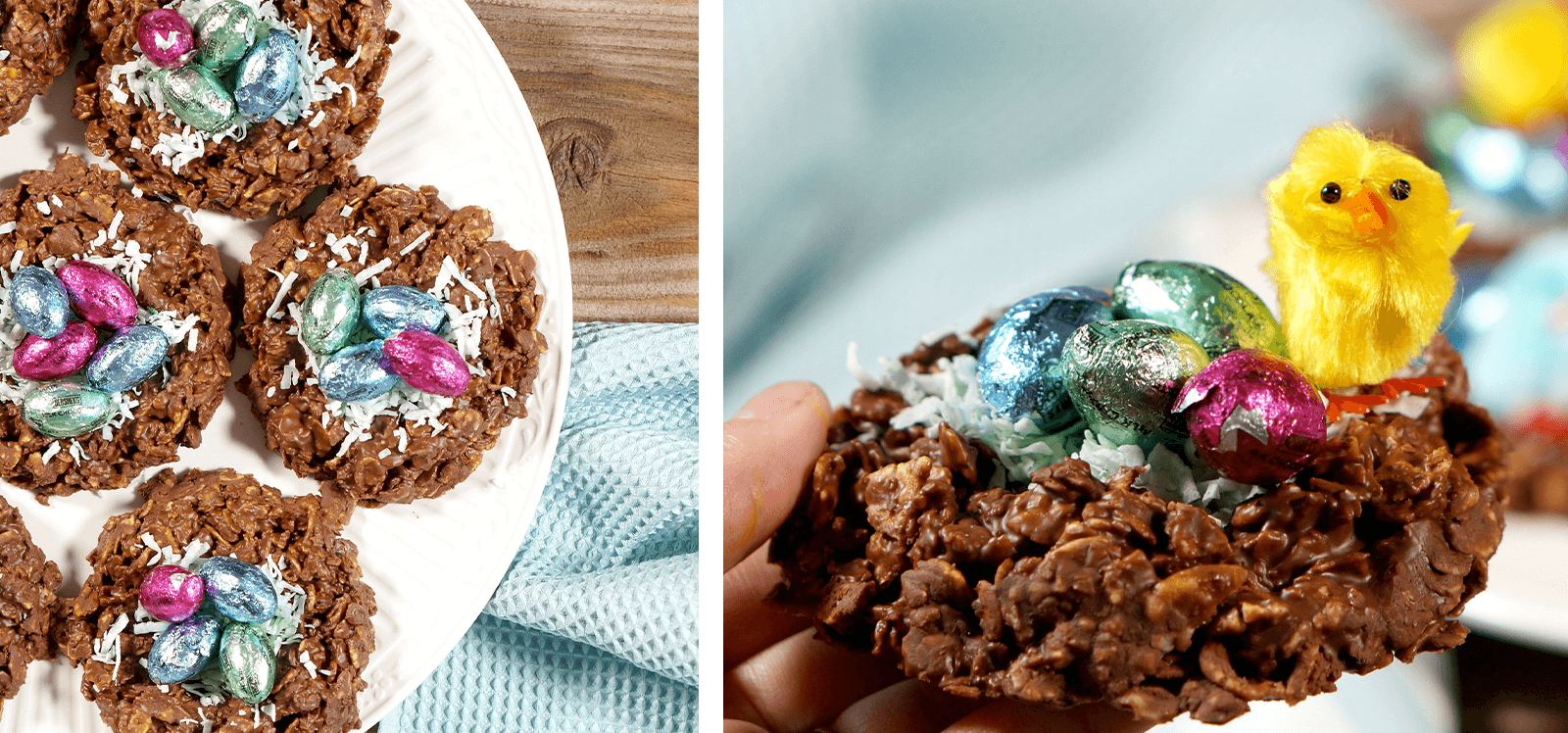 No Bake Birds Nest Cookies
Ingredients:
1 1/2 cup butterscotch chips

1 1/2 cups HT Traders Semisweet Chocolate Chips

3/4 cup Harris Teeter Organics Creamy Peanut Butter

2 cups Harris Teeter Organics Old Fashioned Oats

2 1/2 cups coarsely crushed Simple Truth Sweetened Corn Flakes

1 cup Harris Teeter Sweetened Coconut Flakes

yellow and green food coloring


mini candy eggs
Directions:
In a large bowl, melt together butterscotch chips, chocolate chips and peanut butter. Stir in oats and corn flakes until combined.

Drop a heaping ¼ cup of mixture onto wax paper lined baking sheets into mounds. Allow the mixture to cool slightly before forming into nests.

Meanwhile, add coconut to a large re-sealable plastic bag. Add in a few drops of green and yellow food coloring and shake to coat.

Once you have molded the cereal mixture into nests, sprinkle with colored coconut and place candy eggs in the center. Let cool completely before storing in the refrigerator for 1-2 weeks.

Bunny Bottom Pancakes
Ingredients:
1 box Simple Truth Organic Gluten Free All Purpose Baking Mix

1 egg

2/3 cup milk (you may also substitute almond or soy milk)

1 Tbsp. vegetable oil or melted butter

4 regular sized marshmallows, cut across the middle

12 mini marshmallows, cut across the middle


Harris Teeter Extra Creamy Whipped Topping



Directions:
Preheat your griddle to 350 degrees. Whisk together milk and egg, then add 1 cup of baking mix along with the butter OR oil. Stir until combined.

To make 4 bunny bottom pancakes, you'll need to form 4 large round circles for the bodies and 8 smaller circles for the bunny feet.

Pour the batter onto the griddle and cook until the edges look dry. Flip and cook an additional 2 minutes.

Assemble each bunny bottom: Place the large pancake in the center of the plate. Use two smaller pancakes for the feet. Use the halved marshmallows to create the pads on the bunny feet. Finally – it's time to add the whipped cream bunny tail!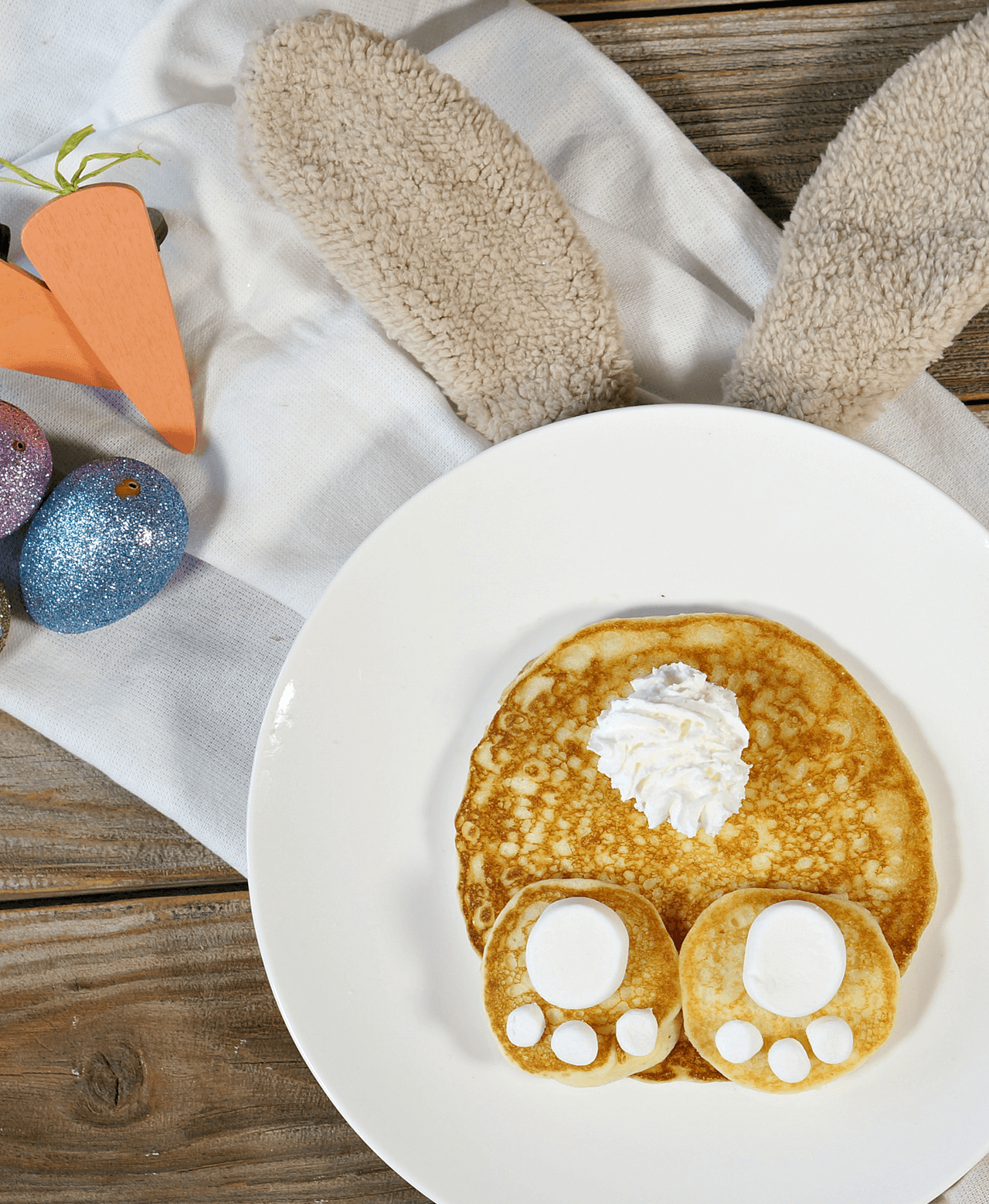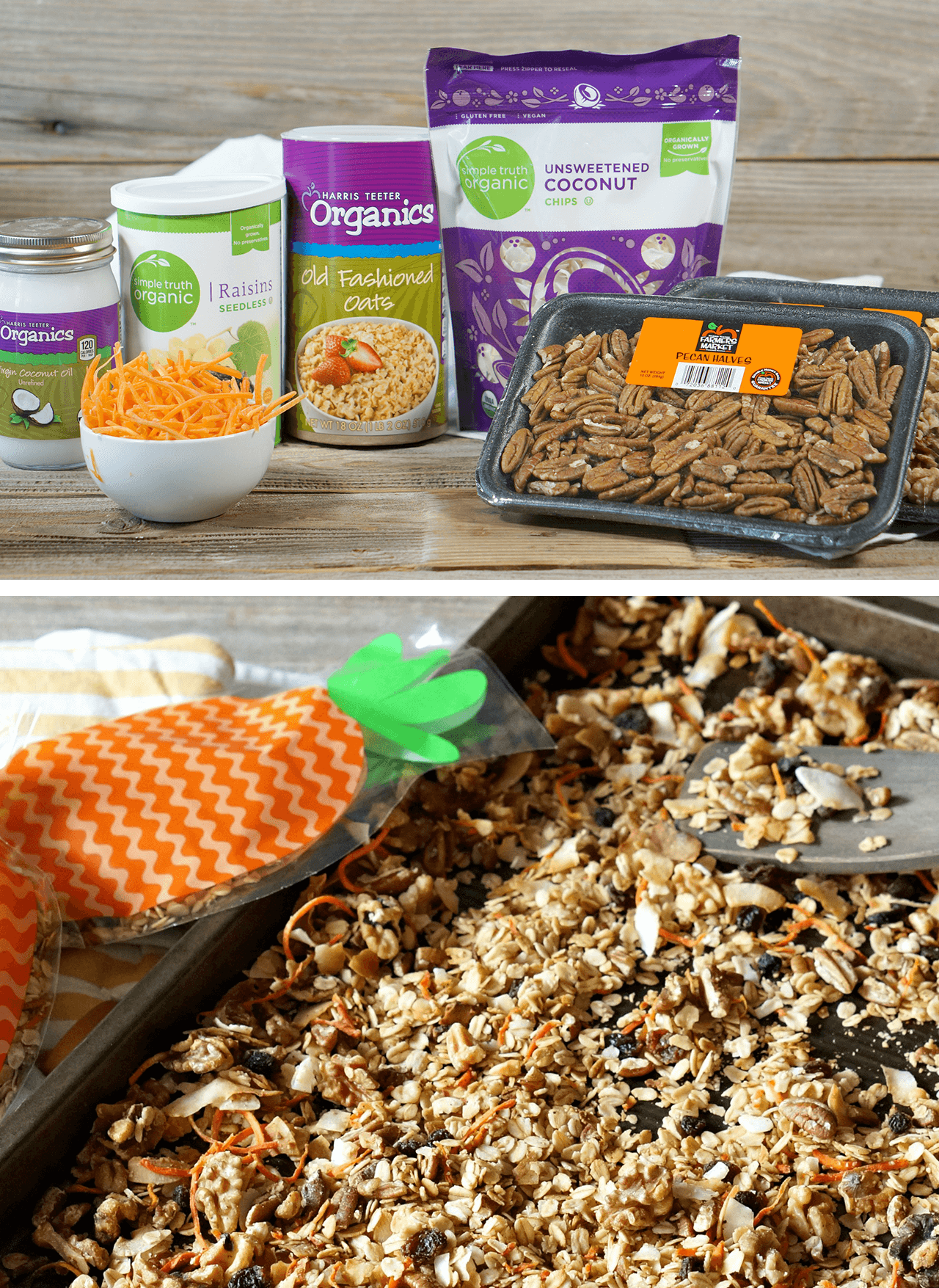 Carrot Cake Spiced Granola



Ingredients:
2 cups Harris Teeter Organics Old Fashioned Oats

1 cup grated or shredded carrots

1 cup Harris Teeter Farmers Market Pecans

1 cup Harris Teeter Farmers Market Walnuts

1/2 cup Simple Truth Unsweetened Shaved Coconut

1/4 cup HT Traders Maple Syrup

1/4 cup Harris Teeter Organics coconut oil, melted

1 tsp. ground cinnamon

1/2 tsp. salt

1/4 teaspoon ground ginger

1/4 tsp. allspice

1/8 tsp. ground nutmeg


1/2 cup Simple Truth Raisins




Directions:
Heat oven to 350 degrees. Add the oats, carrots, pecans, walnuts, coconut, maple syrup, coconut oil, cinnamon, salt, ginger, nutmeg, and allspice together in a large mixing bowl. Toss well until combined.

Spread the mixture out evenly on a baking sheet and bake for 25 minutes, stirring halfway through. Check the mixture once again after twenty minutes of baking. If the coconut starts getting brown, it's time to come out of the oven. If not, let it cook for the 5 minutes.

Remove and let cool until the granola reaches room temperature. Then add raisins and toss to combine. Enjoy immediately, or store in a sealed container for up to 2 weeks.
Baby Chick Cookies
Ingredients:
1 package of Simple Truth Breakfast Cookies

1 bag of yellow candy melts

1 container of white cookie icing

Small edible eyes


Handful of candy corn (or orange candies, halved)




Directions:
Melt yellow candy melts according to package directions. Dip cookie into melted candy.

Pick up the coated cookie and tap to remove excess chocolate. Place the coated cookie onto a baking sheet lined with wax paper. Let chocolate harden.

Use the cookie icing to pipe on the lines for the cracked egg on the top and bottom of the cookie. Fill in the white lines.

Add a small dollop of white icing onto the back of the eyes. Place eyes on the yellow part of the cookie. Add a small dollop of white icing onto the back of the candy corn (or orange candy) and place in the middle below the eyes. Let the icing harden prior to eating.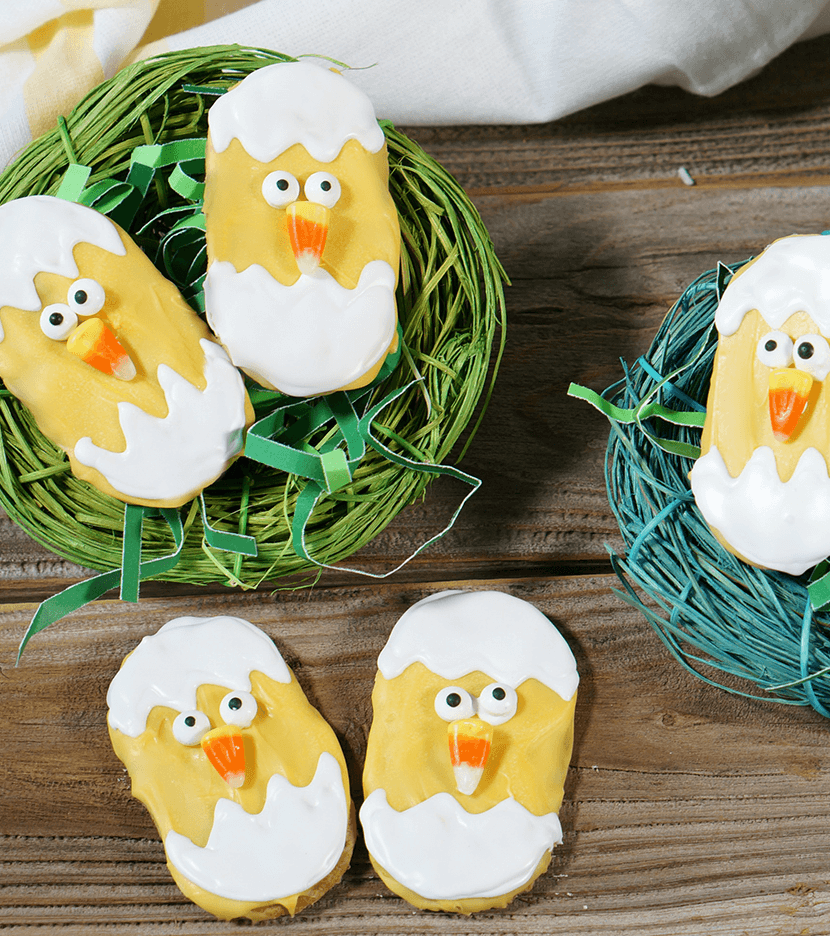 Katie Harding is the publisher of Forks and Folly . A self-taught cook and die-hard foodie, Katie lives in Charlotte with her husband and three boys. Besides cooking and eating, she loves craft beers, running, and napping.