Chef Inspired Pairings
A recipe of the month developed by Chef Mike Monahan with specially selected wine and beer pairings. This month's feature is a delicious and easy meal that is perfect for any occasion.
24
Serves 4
1 flat iron steak
Salt and pepper to taste
1 tablespoon HTT grapeseed oil
½ cup California Red Wine
1 teaspoon HT red wine vinegar
1/8 teaspoon pepper flakes
1 head romaine lettuce, chopped
1 cup cherry tomatoes, halved
½ cup red onion, sliced very thin
1 zucchini, sliced very thin
½ cup HT thousand island dressing
26
Heat a large skillet over medium high heat for one minute. Season the steak with the salt and pepper. Add the oil and steak to the hot skillet and cook for 3 minutes per side. Lower heat to medium low and continue to cook until desired doneness. Add the wine, vinegar and pepper flake and move the steak around pan to coat all sides. Remove the steak to cutting board and let rest for 20 minutes before slicing. Add the remaining ingredients to a large bowl and toss. Divide the salad on serving plates and top with the sliced steak.
45
Enjoy with Edna Valley Cabernet, Ecco Domini Pinot Grigio, Leinenkugel's Summer Ale or Dales Pale Ale
Aromas of ripe boysenberry complemented by hints of vanilla and leather. On the palate, the wine displays notes of fresh blackberry, cassis and black cherry rounded out by hints of black tea and baking spices.
Delicate floral and bright hints of Williams pear. On the palate, complex notes of citrus and exotic fruit complement lively acidity.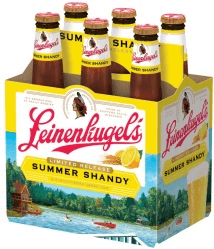 Traditional weiss beer with refreshing natural lemonade flavor that makes it the perfect summer beer.