Cheese Plate Your Way: Retro, Foodie, and Southern-Style
What does every holiday have in common? In my house, two things. A cheese board and champagne. Regardless of the season or what's served for the main course, every celebration starts with a toast to the occasion and a delicious spread of cheese, meats, crackers, and an assortment of goodies from the pantry.
To make a tasty platter, you don't need much. A quick trip around the cheese counter at your local Harris Teeter will ensure happy guests and full bellies. After perusing my Instagram feed, I realized the cheese board can be so much more!

If you're inspired to take your holiday pre-game up a notch, here are a few tips:
Pick a theme
Below you'll find ideas for a Retro, Southern, and Foodie inspired cheese board.
Place your big items on the platter first
Meats and cheeses are the star, so make sure they get plenty of space. Cheeses that need to be sliced should be placed towards the edge.
Make something "homemade"
Dips, candied nuts, salsas and warm bread sticks are all welcome additions to a holiday cheese board.
Pile it high
Just when you think it looks full, add one more thing!
Retro Meat and Fondue Platter
Who doesn't love fondue? Serve a warm pot of cheese along with salamis, little smokies, a classic cheese ball and fresh veggies for dipping. You won't hear, "When's dinner?" for awhile!
Featured Items:
Classic Cheese Fondue, see recipe below

Boar's Head Salamis, sliced

Kaukauna Port Wine Cheese Ball

HT Trader's Pimento Stuffed Olives

Farmer's Market Ready Veggies Peeled Baby Carrots

Farmer's Market Button Mushrooms

Harris Teeter Roasted Deluxe Mixed Nuts

Harris Teeter Original Golden Crackers
Classic Cheese Fondue Recipe


Ingredients:
1 garlic clove, minced

1 lemon

1 cup white wine

16 ounces shredded swiss cheese or a preferred melting cheese (a soft cheddar also works well)

4 tsp. cornstarch

2 Tbsp. brandy

Ground Pepper and Fresh nutmeg
Directions:
In fondue pot on medium-heat setting, add garlic clove, juice from one lemon and white wine. Bring to a gentle boil and reduce heat to low. Add cheese by the handfuls, stirring constantly. Meanwhile, stir together the brandy and cornstarch until thoroughly mixed, then add to the cheese mixture and stir until you reach a smooth consistency. Stir in ground pepper and freshly grated nutmeg to taste. Adjust the heat setting to keep the fondue smooth, but not boiling.
Southern Meat and Cheese Spread
Smoked meats and cheese. Pickled everything. Southern pecans. This is what a traditional Southern holiday charcuterie spread looks like!
Featured Items:
Candied Pecans, see recipe below

Simple Truth Organic Cracked Black Pepper Flavored Beef Jerky

Harris Teeter Premium Bacon, cooked

HT Trader's Monumental Salt and Pepper Virginia Peanuts

HT Trader's Cheddar Cheese Straws

Assorted smoked cheeses, such as gouda and cheddar

Harris Teeter Dark Chocolate Sea Salt Caramels

Talk O' Texas Crisp Okra Pickles

Tillen Farms Crispy Pickled Carrots and Dilly Green Beans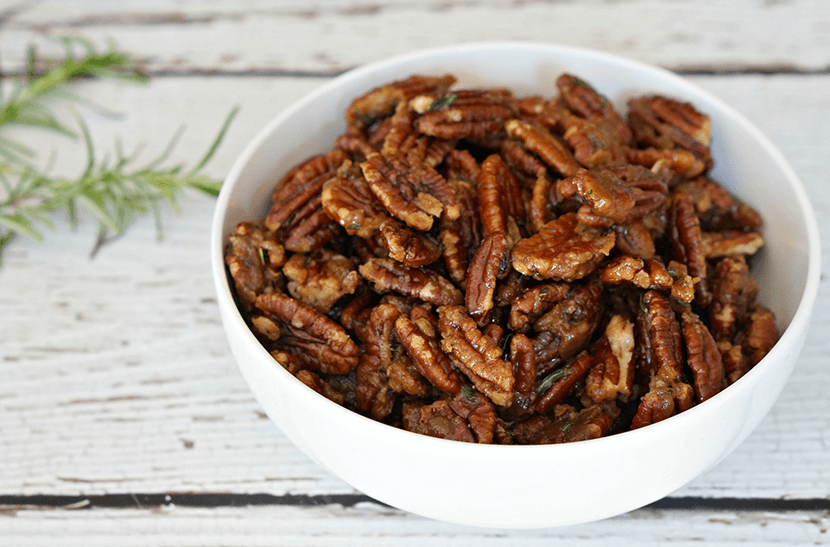 Candied Pecans Recipe


Ingredients:
2 cups pecan halves

4 Tbsp. butter

4 Tbsp. brown sugar

1 Tbsp. chopped fresh rosemary

½ tsp. Salt

Directions:
In a large saucepan, melt butter over medium heat. Add pecans and stir to coat. Add in the brown sugar, rosemary and salt. Continue cooking until caramelized, about 5-6 minutes. Pour mixture out onto parchment paper and allow to cool completely before storing.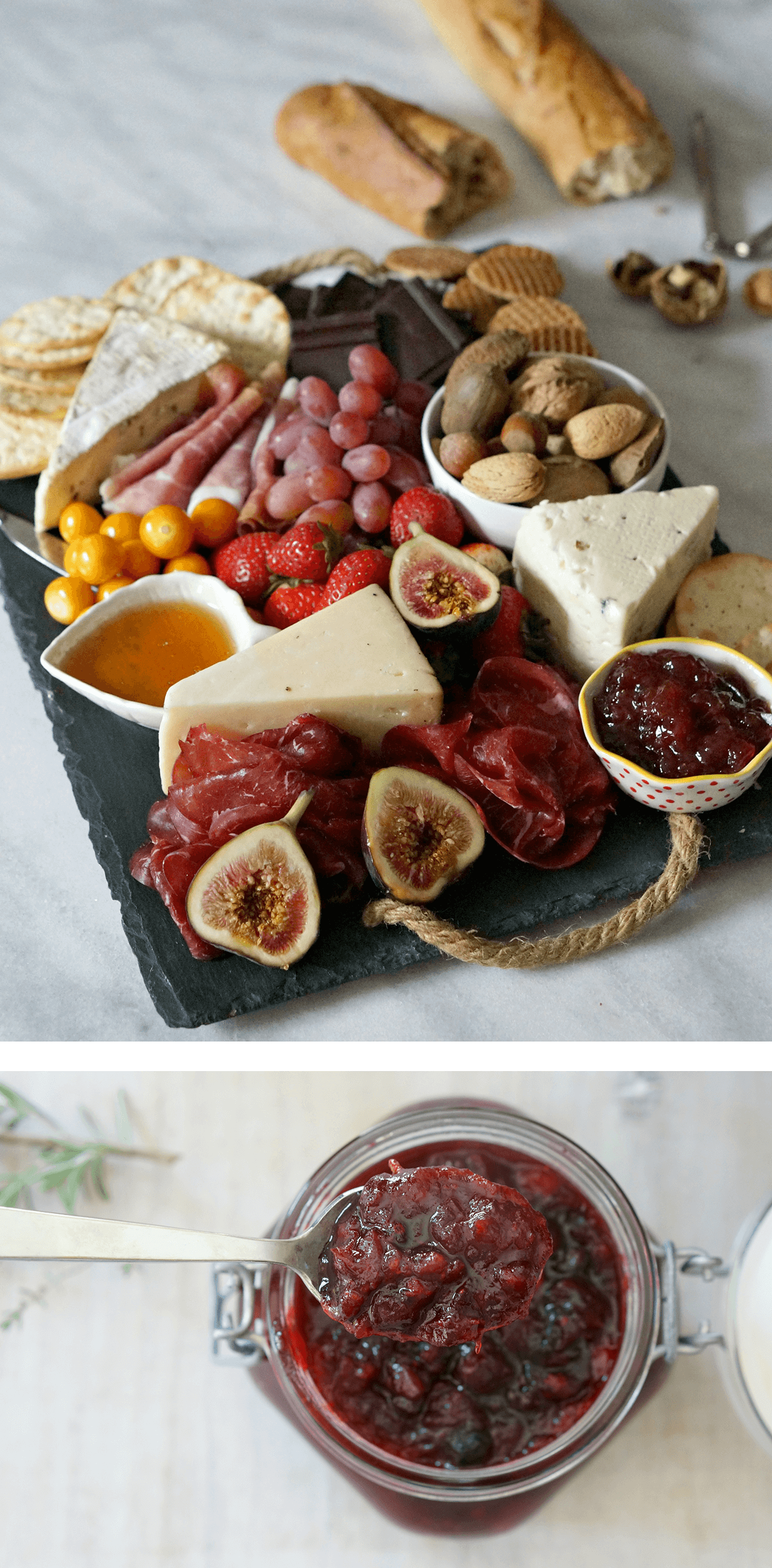 Foodie Charcuterie Board
Perfectly cured Italian meats and cheese flecked with truffles are just the beginning. A variety of specialty chocolates, in-shell nuts, and a selection of fruits will turn anyone in to a self-proclaimed foodie!
Featured Items:
Homemade Cranberry Sauce, see recipe below

Farmer's Market Large Mixed Nuts

HT Trader's Dark Chocolate, assorted varieties

Cured Italian meats such as prosciutto and sopressata

Assorted fine cheeses

A variety of fruits like strawberries, picchu berries, figs and grapes

HT Trader's Specialty Water Crackers

HT Trader's Mini Caramel Wafers

Cranberry Sauce with Chardonnay Recipe


Ingredients:
12 ounces of fresh cranberries

½ cup of water,

½ cup of Chardonnay,

½ cup of sugar

1 spring of fresh rosemary

½ cup of fresh lemon juice

Zest of a lemon

Directions:
First, combine 12 ounces of fresh cranberries (so much less expensive than dried!), ½ cup of water, ½ cup of Chardonnay, ½ cup of sugar, a sprig of fresh rosemary, ½ cup of fresh lemon juice and the zest of a lemon.
Bring to a gentle simmer and allow to cook, stirring occasionally until the cranberries burst and the sauce thickens.
Remove the rosemary sprig and with an immersion blender, blend until you get the consistency you desire.
If you don't have an immersion blender, process in a food processor or blender with the cap removed to allow hot air to escape. Cover the hole loosely with a towel to prevent splatters.
Allow the sauce to cool completely, then transfer to a storage container and refrigerate for up to 5 days.

Katie Harding is the publisher of Forks and Folly . A self-taught cook and die-hard foodie, Katie lives in Charlotte with her husband and three boys. Besides cooking and eating, she loves craft beers, running, and napping.