5 Holiday Movie Themed Treats
Movie Night is a Friday evening tradition in our house complete with comfy pajamas, snacks, loads of cuddly blankets, and lots of snuggling. And while I cherish every family movie night, holiday movie nights are THE BEST.
A roaring fire and a lit Christmas tree set the perfect scene. We take turns selecting our favorite holiday movies, and I ensure we have themed movie night snacks to make the evening super special.
While there are occasionally new movies introduced to our holiday rotation, there are certainly classics that we can count on watching each year. And for these family favorites, I have the perfect movie night treat!

Dr. Seuss's How the Grinch Stole Christmas paired with The Grinch's Hot Vanilla Milk
Feeling grinchy? This hot vanilla milk topped with whipped cream and a cherry should put you in the holiday spirit just in time for movie night!
Grinch's Hot Vanilla Milk Recipe:
1 Serving: Combine 2 cups of milk, 1 tablespoon of sugar, and a ½ teaspoon of vanilla in a saucepan. Whisk over medium heat until warmed through. Pour into mugs and serve with whipped cream and a cherry.
*Note: To create a sprinkled rim, melt white chocolate until smooth, then pour onto a rimmed plate. our sprinkles in a second rimmed plate. Dip the rim of each mug in the chocolate, and then the sprinkles. Allow to set before pouring in the vanilla milk.
Polar Express paired with Hot Chocolate Popcorn
Get your hot cocoa and popcorn fix in one fabulous treat. Easy to make and loaded with favorite ingredients of the season, our Hot Chocolate Popcorn is the perfect holiday movie night treat!
Ingredients:
8 cups plain popped popcorn

2 cups Harris Teeter miniature marshmallows, divided

1 packet of Harris Teeter Hot Cocoa mix

¼ cup sugar

¼ cup butter

¼ cup light corn syrup

¼ cup HT Traders Bittersweet Chocolate Chips
Directions:
Combine 1 cup marshmallows and popcorn in a large bowl. In a medium saucepan, combine ½ cup marshmallows, cocoa mix, sugar, butter and corn syrup. Warm over medium heat and cook until melted and smooth.
Pour over popcorn mixture and toss to coat. Pour popcorn out onto wax paper, breaking up any clumps.
Melt chocolate chips in 30 second intervals until melted and smooth. Pour over popcorn mixture and let stand until set.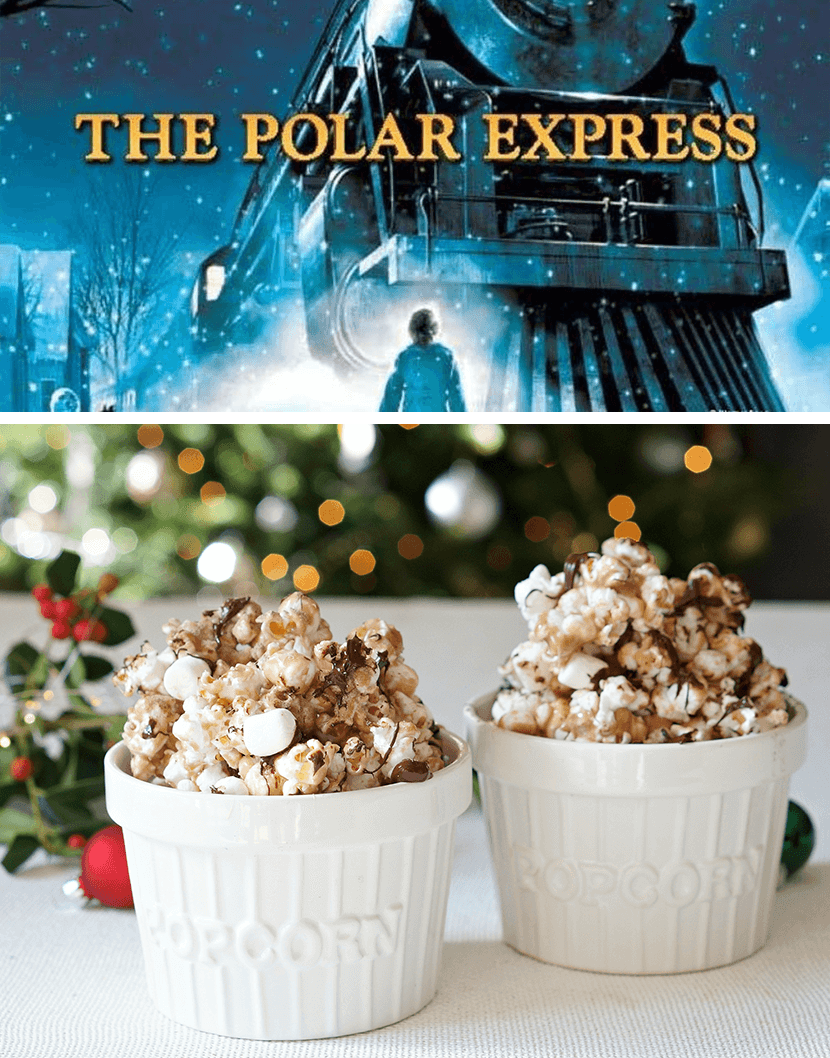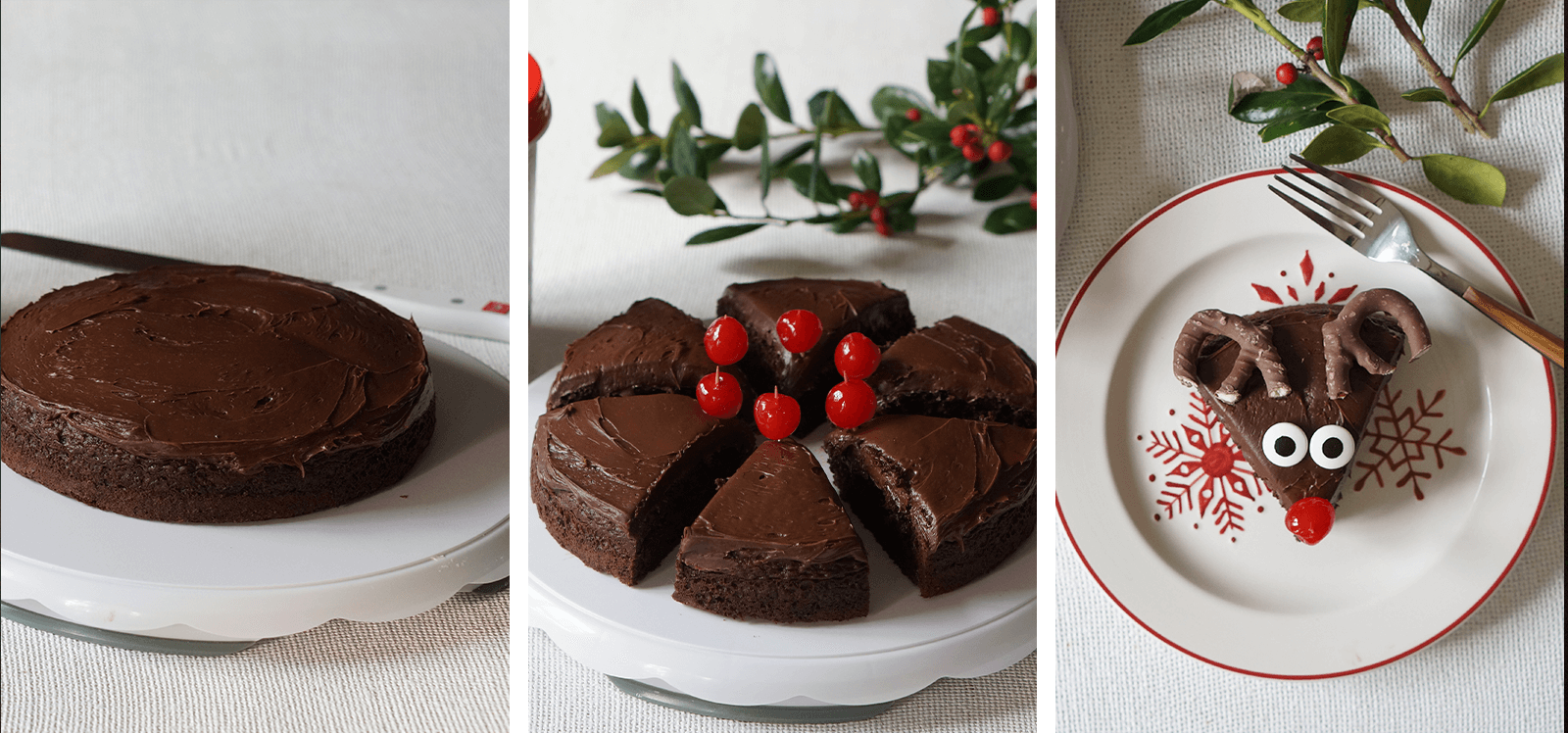 Rudolph the Red Nosed Reindeer paired with Rudolph Cake
Too cute to eat? The kids won't think so! Serve this delightful Rudolph Cake after enjoying the classic Rudolph the Red Nosed Reindeer movie.
Ingredients:
1 box of chocolate cake mix

1 container of chocolate icing

Harris Teeter maraschino cherries

Candy eyes

Chocolate covered pretzels

Toothpicks
Directions:
Prepare cake mix according to package directions, in round cake pans. Once cooled completely, coat the top of the cake with chocolate icing. Cut the cake into six slices and pull each slice out slightly.

Insert a toothpick into the cherry, and secure the "nose" to the tip of each cake slice. Half the pretzels and secure them in the icing to create antlers, then give each reindeer eyes.

Elf paired with Buddy's Favorite Pancakes
We're pretty sure Buddy the Elf would approve of these rich chocolate pancakes topped with maple syrup.
Ingredients:
1 cup milk

1 egg

2 tbsp. vegetable oil

1 tsp. vanilla extract

1 ¼ cup all-purpose flour

½ cup unsweetened cocoa powder

¼ cup sugar

½ tsp. baking soda

½ tsp. salt

Directions:
In a large bowl, combine milk, egg, oil and vanilla. Sift in the flour, cocoa, powder, sugar, baking soda, and salt. Stir until just combined.
Heat a griddle over medium high heat. Pour ¼ cup batter onto the griddle and cook until the edges begin to bubble. Flip and continue to cook until pancakes are cooked through. Repeat with remaining batter. Serve with chocolate syrup, maple syrup, and candy canes, if desired!
Frosty the Snowman paired with Melted Snowman Dip
Who ever would have guessed a melted snowman would taste so…delicious?
Ingredients:
8 oz. Harris Teeter Original Cream Cheese, softened

8 oz. Harris Teeter Sweetened Condensed Milk

8 oz. Harris Teeter Whipped Topping

½ cup HT Traders Bittersweet Chocolate Chips

¼ cup candy corn

Pretzel Sticks
Directions:
Combine cream cheese, condensed milk, and whipped topping in a large mixing bowl. Beat on medium until smooth. Stir in the chocolate chips and candy corn and insert pretzels so they stick out. Refrigerate until ready to serve.
Katie Harding is the publisher of Forks and Folly . A self-taught cook and die-hard foodie, Katie lives in Charlotte with her husband and three boys. Besides cooking and eating, she loves craft beers, running, and napping.