3 Life-Changing Banana Hacks
I adore bananas. Seriously, what parent wouldn't? The Chiquita logo was definitely one of the first brands my children recognized, as we buy bunches (of bunches) every week.
Bananas are, hands down, one of the easiest healthy foods to feed your children. They're super-affordable AND oh-so versatile. I've created dozens of banana recipes over my bloggy years, but I've got a few banana hacks that I've yet to share.
So, listen up, because these are hacks worth noting:
1. Swap out an egg for a banana in your baking
Did you know that you can replace eggs with bananas in your chocolate chip cookies? I didn't, until recently. There are sooo many times I've darted out my door to borrow eggs from my neighbors when I've had bananas sitting in my fruit basket. It's also an easy vegan substitute for those on restricted diets.
2. Quick-ripen bananas
Have you ever gone to make your favorite banana bread only to realize that your bananas aren't quite ripe enough yet? Fret not! Preheat your oven to 300 degrees Fahrenheit. Place the bananas on a baking sheet and cook for about 20-25 minutes, until the peels are black and glossy. Remove them from the oven, and allow the bananas to cool at least 10 minutes prior to peeling.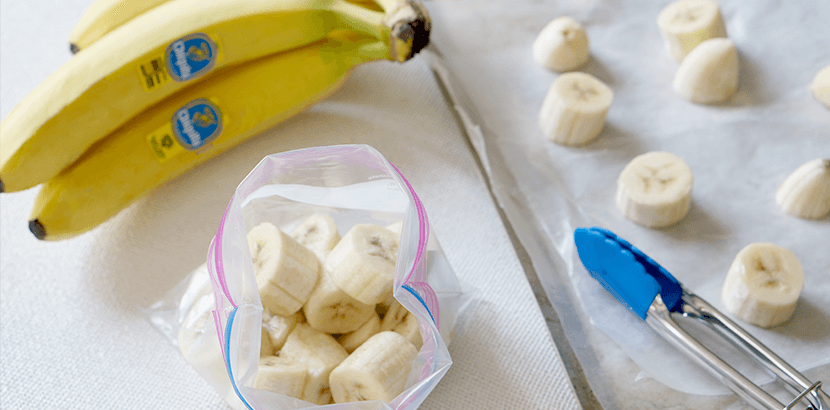 3. Perfect frozen bananas
This one was HUGE for me! I love smoothies, and I always add a frozen banana to mine for that perfect frozen-creamy texture. But sticking a whole frozen banana in the blender can be taxing on the motor and lead to a not-so-smooth smoothie consistency. So, instead slice the bananas into 1" slices and place on a wax paper coated baking sheet. Freeze until solid, then remove and store into a freeze bag.
How do you Chiquita?
Share your best Chiquita Banana recipes and fun creations with us for a chance to win up to $1,000 in Harris Teeter gift cards! Make sure to take a little time out of your day to play and you could win some very cool Chiquita banana swag just for having fun! You'll also find a great selection of recipes from Chiquita's very own collection to try or to send to a friend. Learn more here.
Katie Harding is the publisher of Forks and Folly . A self-taught cook and die-hard foodie, Katie lives in Charlotte with her husband and three boys. Besides cooking and eating, she loves craft beers, running, and napping.